"Congratulations! We are pleased to inform you that your company has successfully earned the HubSpot Platform Enablement Accreditation. Your application provided sufficient evidence of mastery such that we are able to waive the requirement for the live-training roleplay. Through this rigorous process, you've proven your team's skill in Platform Enablement."

This was the message that greeted us along with the validation of being recognized for the expertise we hold in delivering customized HubSpot trainings to large teams.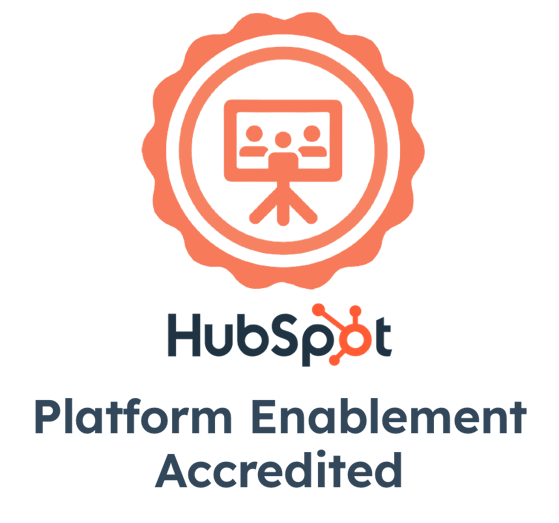 The HubSpot Platform Enablement Accreditation is a credential that validates the skills and strategic experience of solution partners to drive user adoption through delivering customized HubSpot training to large teams and facilitating change management. Accredited partners are acclaimed for their product-specific knowledge, aptitude in providing strategic and operational guidance, data-driven decision making, training design and classroom management.
The partner applying for accreditations must be a Platinum, Diamond or Elite partner with HubSpot CRM training projects within the last 12 months. They must have experience in delivering live instructor-led training, customizing training scope, content and materials based on customer needs and meet the HubSpot Academy certification prerequisites. Once the prerequisites are met, the applications have to qualify two rounds to be awarded with the accreditation successfully.
Niswey works with its customer teams to solve their onboarding challenges and enable customized HubSpot training that meets their business needs. This has led them to add another feather in their cap this year. So much so that they got selected for the accreditation without even having to apply for the last round.
"We are extremely proud of our team and the expertise they bring to enable our customers leverage the best of HubSpot. The accreditation recognizes our efforts to go the extra mile and pushes us to do even better in the future."
— Suma EP, CEO Niswey
This year has brought some other great recognitions for Niswey. They became the winners of the ​​2022 HubSpot Technical Expertise Award. And have also earned the HubSpot Onboarding Accreditation.
About Niswey
Niswey is a martech company based in New Delhi. The company has SaaS products for the HubSpot ecosystem as well as delivers HubSpot solutioning services for businesses across diverse industries. Niswey is Asia's first Elite Solutions Partner, and also an accredited HubSpot Onboarding agency. They have also been rated by Clutch as one of the Top 15 HubSpot partners in the world. The company provides HubSpot onboarding, implementation, development, management and integration services to its mid-size and enterprise clients. Among its clients are DHI, Sterlite Technologies, Master's Union, Coforge, MakeMyTrip etc. For more information, please visit https://www.niswey.com/