"For our clients, we are willing to walk that extra mile and be truly invested in their growth. And that has helped us reach where we are today – one of the Top 15 HubSpot Service Providers around the world, as rated by Clutch!"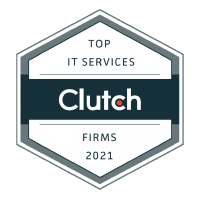 So what's the story you may ask? Oh, one of sheer intent, learning and customer oneness! Want to delve deeper? Grab on your seat belts dear reader, you're in for an exciting ride!
Where Niswey Met Clutch…
You probably know us, we are an inbound marketing and account-based marketing agency based in New Delhi, India. We started our journey in 2011, and soon decided that we were going to follow a Flat Organization culture. This meant saying no to process inefficiencies, following an agile methodology on projects, and empowering our teams to do what they love.
For you know, happy teams make happy clients!
And imagine our joy when an independent B2B research, ratings, and reviews firm like Clutch recognizes our efforts by featuring us among the Top SEO and PPC Management Companies in India in 2017!
The best thing about being recognized by Clutch? That it's entirely based on reviews from our clients. Yes, unlike any other ratings agencies, the Clutch team relies on authentic and reliable reviews from customers. This helps companies like Niswey to stand out based on the experience and value we have created for our clients.
So that was our first experience with Clutch. And since then, we've climbed the charts on Clutch to be:
Rated among the Top 10 agencies in India (2017, 2018, 2019)
"Our recognition by Clutch is a vindication of what our company stands for: do the right thing and the right results will come. We are focused on staying helpful and relevant to the end customer, sometimes even taking tough calls for the client's growth.
And we are immensely proud of ourselves, to have reached where we are today, doing what we love to do. Thanks to our clients for being so kind in their reviews, and to Clutch for acknowledging our efforts towards our client's growth."
— Suma EP, CEO Niswey
Becoming a Top 15 HubSpot Partner!
And this year we add another feather in our cap, with a glowing review from one of our clients whose projects have given us immense learning opportunities. These projects allowed us to showcase our skills in blog writing services, content publishing, social media marketing, analytics, and even web development.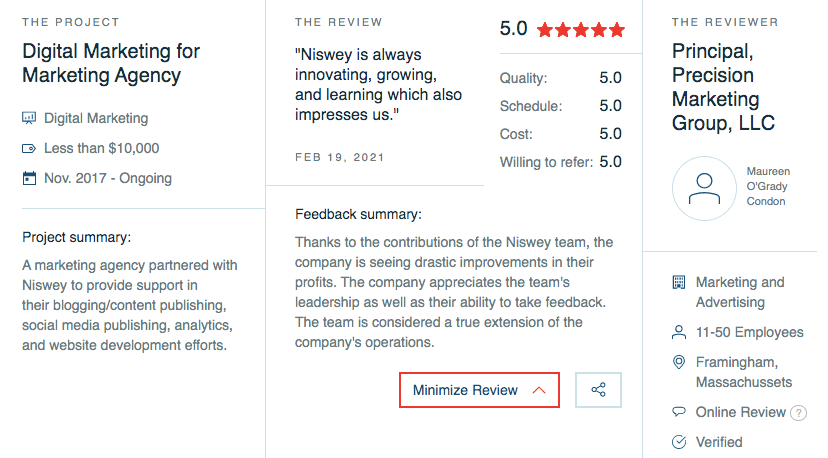 "We love the leadership and the team as a whole. We can collaborate with them successfully, they take feedback very well and are willing to be flexible to help us help our clients.
We feel they are completely committed to our success – and we are to theirs. Niswey is always innovating, growing and learning which also impresses us."
— Maureen Condon, Principal, Precision Marketing Group, LLC
Thank you, dear client, for leaving this review on our profile. We appreciate the support and the trust that we've built throughout the years. And we look forward to a long ongoing relationship with a dozen more wins and growth.
To add to our excitement, this list also puts us in the same league as leading US agencies like Revenue River and Weidert, as well as other HubSpot partner agencies doing phenomenal work around the world!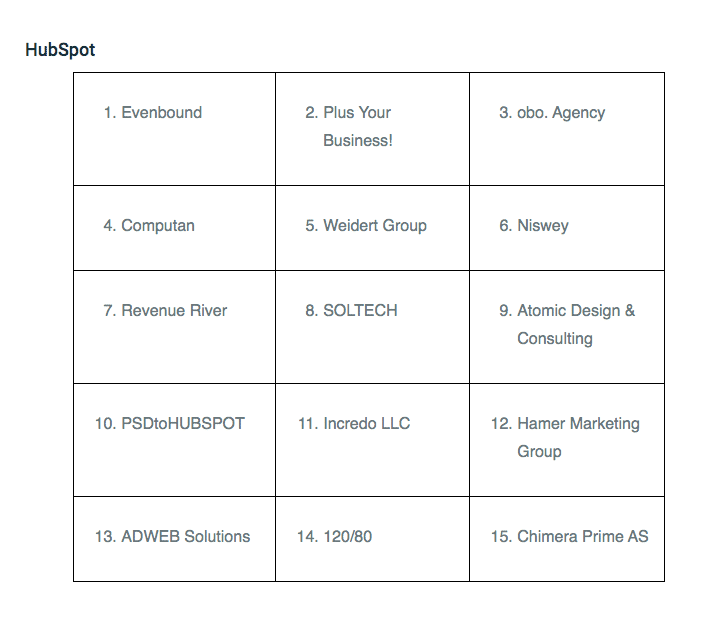 "As a HubSpot agency and Diamond partner, we are immensely proud to rank among the top 15 IT services firms specializing in HubSpot. This also aligns with our vision to be growing as a martech company in the HubSpot space."
— Abhinav Sahai, COO Niswey
Rejoicing in Our Success, and What's Next?
Well, an achievement like this calls for a celebration. And remote office or not, we know how to party! Say hi to these faces in and out of screens 😀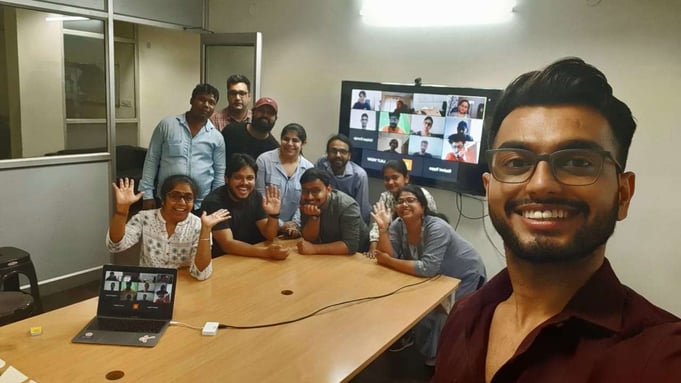 This year has brought us some other great recognitions too. We've been featured as the leading company on the Manifest, a listing platform and Clutch's sister website. According to their list, Niswey is number one in India's inbound marketing scene. Yay!
AND… We are now a HubSpot Diamond Partner! Also a member of the 2021 HubSpot Partner Advisory Council, and HubSpot User Groups leader, New Delhi chapter, for the third year in a row.
What can we say? There are never too many wins to celebrate 😉
And we look forward to a lot more in the year. Cheers to team Niswey!
Looking for inbound, account-based marketing, or a HubSpot agency that invests in your business growth? Niswey is the place to be!