98% of logistics companies say that customer service is a critical piece of their company's overall business strategy, as per the 2019 Logistics Tech Trends report.
Why? Because as a logistics service provider, your customers may never see your numerous warehouses, committed drivers and packers, or even their own products. However, what they can see is the experience you deliver. Fast, consistent customer support has become critical for a successful logistics business.
It not only delivers a great experience for customers, but also enables you to form a trusting relationship with them. This further ensures their loyalty and retention, ultimately making them your customer advocates.
However, 55% of logistics companies find keeping up with customer service 24/7 as their biggest challenge. So how do you go about it?
Importance of Customer Service in Logistics
For logistics providers across the world, the key to a great customer experience lies in:
How fast and accurate is your delivery

How do you reduce anxiety for your customers, with timely updates and real time shipment tracking

How well can you handle customer complaints and resolve them
While the first is a factor of internal processes and operational efficiency, the other two factors are what constitute customer service logistics. What you need to do is:
Ensure 24/7 support

Share continuous updates and reminders

And deliver these on a platform where your customers find it most convenient to interact with you
That's what is going to ensure a great customer experience, and meet your customer service goals in logistics!
That said, WhatsApp has emerged as one of the most immediate means of communication, and is the perfect platform for all your customer communication. You can leverage it to share shipment status and other updates with users, and at the same time allow them to raise complaints without having to open up multiple channels (an app/website/call a customer care number).
And if you are wondering how communication across WhatsApp can be integrated with your marketing stack – our HubSpot+WhatsApp Integration does the job for you!
How to Improve Customer Service in Logistics?
Using HubSpot with WhatsApp will enhance your logistics business, with the HubSpot CRM giving you a 360 degree view of your customer service communication, all at one place. This enables your customer support executives to ensure faster communication with customers, and help improve their experience.
Here are the ways in which you can enhance customer service experience in your organization:
Communicate Quickly, Consistently
Need to send updates about their shipment and delivery status to customers? SMS is no longer the ideal platform – send it via WhatsApp for an easier interaction and engagement.
With the HubSpot+WhatsApp tool, you can also track the status of your WhatsApp messages within HubSpot. You can check if your messages have been viewed or read, and at what time, and also read their replies within HubSpot. Why this helps is because it enables you to have all WhatsApp conversations at one place, irrespective of which customer service executive is on the chat.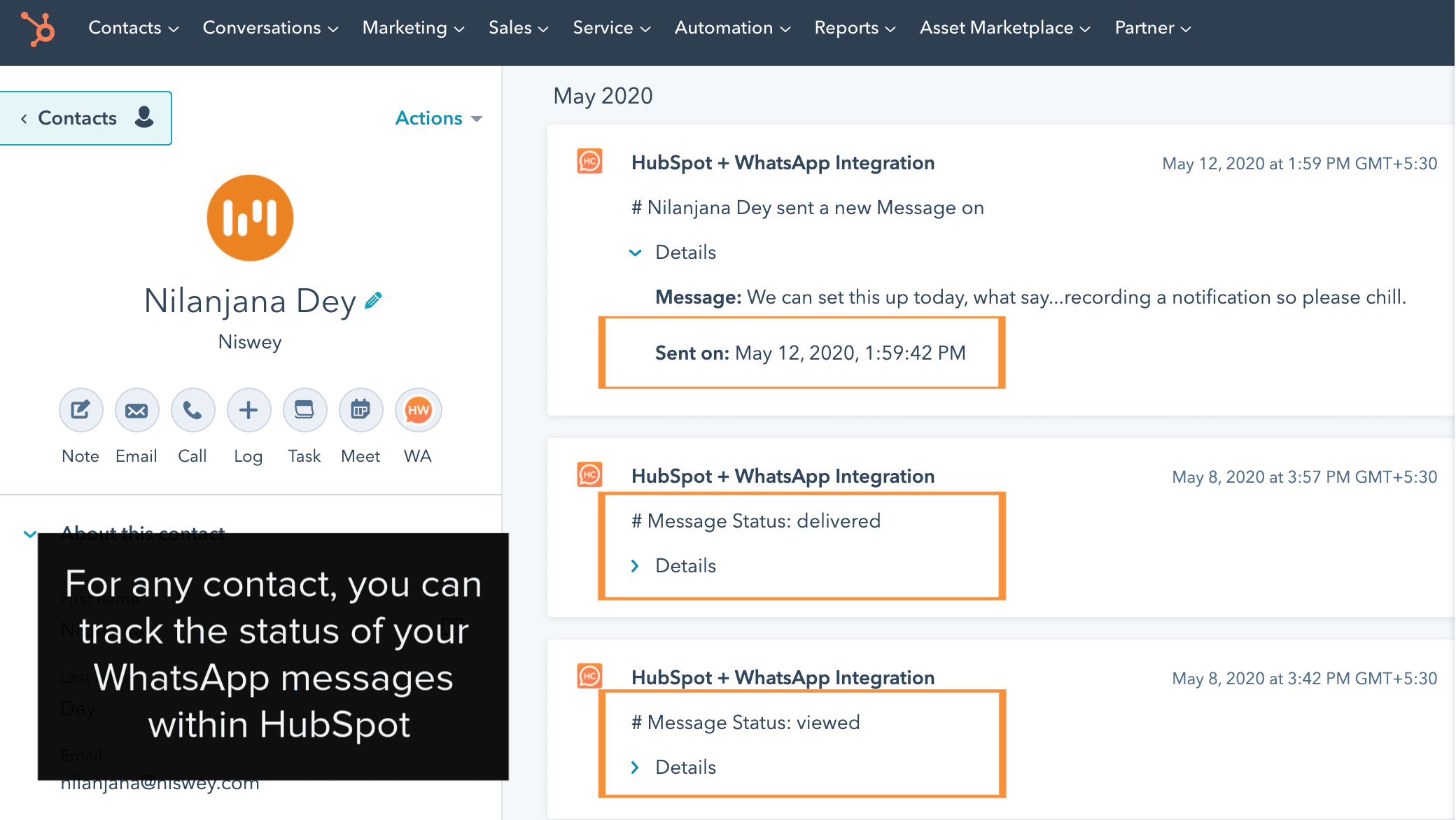 HubSpot + WhatsApp integration also enables you to send automated updates to your customers about their shipment status on WhatsApp. This ensures fast and consistent communication.
Quick & Easy Resolution of Complaints
Make it easy for your customers to reach out for issues or complaints via WhatsApp. With the HubSpot+WhatsApp solution, you can automatically create support tickets on HubSpot for any complaint by the customer. This can further notify your customer support team to take up this issue, and get it resolved quickly.
For example, if a customer sends a WhatsApp message containing the words 'not working', it triggers a workflow that automatically creates support tickets for the tech team, for them to resolve it.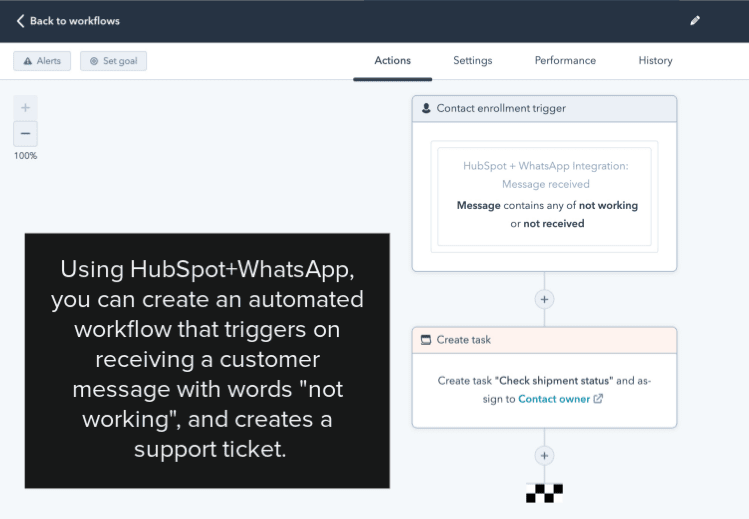 Additionally, using the WhatsApp automation with HubSpot solution, you can also send an automated WhatsApp notification to your customer when the above issue is resolved.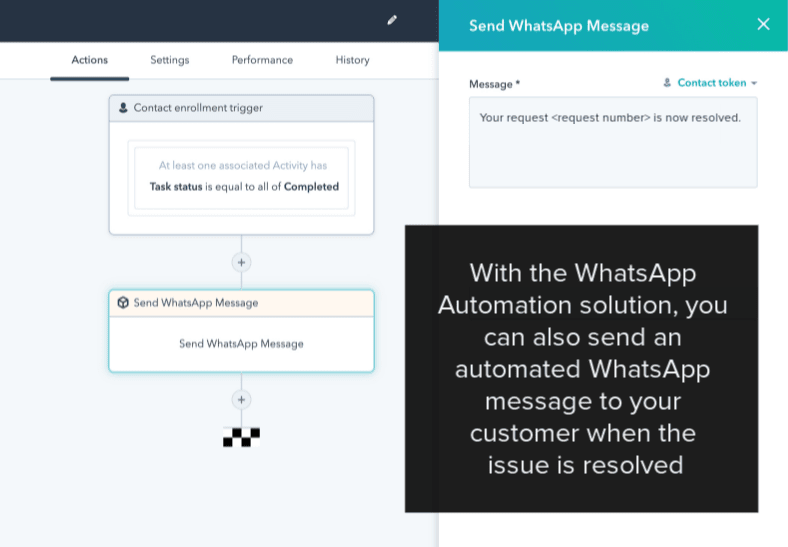 Another important use case here would be minimizing touchpoints for your customers.
Your customers don't want to hear from several members in your team. It's frustrating if one of your representatives cannot solve their problem and connects the customer to someone else. Instead, if your executives could collaborate internally and resolve the problem without involving the customer, it would greatly improve his experience.
This is possible using tickets in HubSpot. Your customer support executive can create tickets from a contact record, or a conversations inbox and assign it to any other team member. They can also automate this using workflows. All this ensures that the user is not involved, rather the executives collaborate to resolve the issue internally, and update the customer once done.
Unified Communications at One Place
Integrating your HubSpot with WhatsApp enables you to reach your customers where they are most available – WhatsApp. At the same time it ensures that all the conversation is logged and visible to the entire team on one single platform – HubSpot.
How?
Say a member of your customer service team is interacting with a customer on WhatsApp using the HubSpot+WhatsApp tool. But he may not be available at all times when the customer replies or has problems. And the great thing about HubSpot+WhatsApp is that he doesn't have to be!
Any executive with bandwidth can pick up any query and start assisting the customer at a different time. They can view the previous chat history and context, all logged in the HubSpot CRM, and send the appropriate reply, or an update, as may be requested by the customer.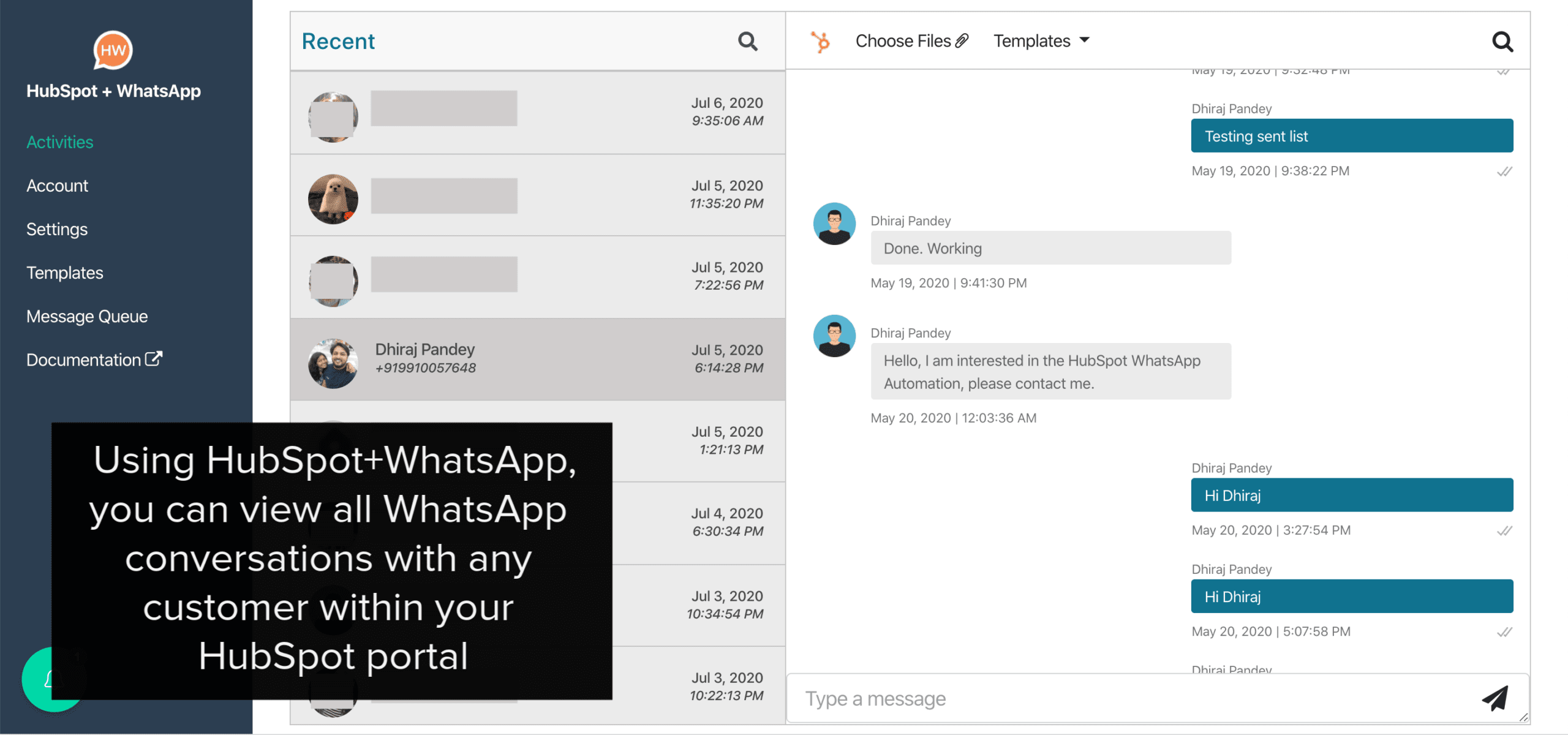 Using HubSpot+WhatsApp tool ensures that your customer support executives can view all WhatsApp conversations with any customer within your HubSpot portal. This enables an easy collaboration and communication between your support team and customers.
Logistics management is a sophisticated discipline, requiring smart people, streamlined processes and advanced technology. But, in the end, customers will rate you based on how well you communicate with them, or solve their complaints. And that is a core competency logistics service providers should compete for!
Here is a video showing how the tool looks in action:
Want to know more about how HubSpot+WhatsApp integration can help your logistics business?