Conducting an inbound audit is not a one-time work. Nor is it just for those who might have discovered their inbound marketing is failing.
Infact, if you want continuous success with your inbound marketing efforts, audits should become a part of your periodic performance checks.
I'll tell you why.
Consider this.
Stagnant Enterprises has been doing inbound marketing for years. They've worked out their goals, personas, content etc., and are finally getting results. They are getting quality leads, good conversion rates and an increase in revenue.
But the catch? This is not permanent.
There will always be a disruptor – a new service, an updated technique, or a competitor – who will come and derail your progress. And the only way you can stay relevant and competitive in the market is by being vigilant of your strategies, and conducting regular audits to improve your performance.
Hmmm….ok. Makes sense. Now how do you go about that?
5 Steps on How to Conduct a Marketing Audit
For 'Vigilant Enterprises', a Quality Engineering company in the UK, their major challenge was the low conversion rate, and an unoptimized process for lead generation.
To gain a better understanding of where things were going wrong, they went for an inbound audit. Here are the steps that they followed:
1. Understanding the Business Objectives and Processes
The management team sat with the audit agency to help them understand their business in detail.
What were their overall business goals?

Who were their buyer personas?

What did they aim to achieve from their inbound marketing efforts?

What was their lead generation process before?

How are they different from their competitors?

and so on
And it was during this conversation that the audit agency could identify where the loose wires were. But to verify those observations, an audit was conducted.
2. Conducting an Inbound Audit
The underlying objective of an inbound marketing audit is to analyze which areas of your marketing plan needs improvement. It could be your website, content or social media. And based on that you can decide whether to go for standalone audits of specific marketing operations, or a detailed one that spans the breadth of your digital marketing activities.
'Vigilant Enterprises' opted for a detailed online marketing audit to gain an in-depth understanding of their inbound marketing efforts. And it included a combination of different standalone audits.
Website Marketing Audit
This included analyzing their website on three parameters: Performance, User Experience and Design. And find out any issues that may be directly impacting their clients' user experience.
It involved detecting any:
Vulnerabilities or security issues with the site

Technical problems like page speed, sitemap, crawler issues

Responsiveness of the website across devices

Inbound Content Audit
The next step was to audit their content assets, analyze whether they were in line with the personas and mapped to specific buyer journeys.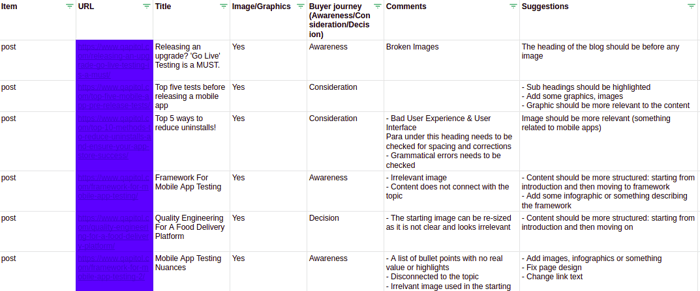 Few tactics that helped gauge their existing content strategy were:
Review of the title tags, meta descriptions and images

Checking whether the content was keyword rich, and in line with their campaign goals

Analyzing if the content was valuable to buyer personas, and mapped to their buyer journey

Finding if the site contained relevant keywords that aligned with their content & digital strategy

SEO Audit
Using this, the client was able to find out any behind-the-scenes roadblocks that were preventing them from ranking higher on SERP.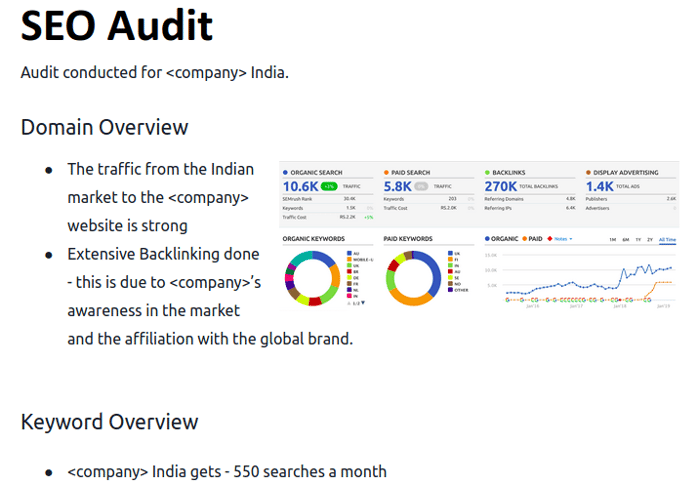 This audit takes a look into the metadata, crawlability, backlinks as well as keyword strategy.
Some questions during the audit include:
Do the page titles, meta descriptions, URLs use relevant keywords?

Do these elements follow SEO best practices for character count, structure, etc.?

Are the images optimized for SEO?

Ads Audit
This enabled the business to take a look into their campaign settings and structure.
What kind of ad campaigns are running?

What goals and strategies are being implemented?

How are these campaigns performing based on KPIs like click-through rate, conversion rate, search impression rate?

Social Media Audit
Through this, the company was able to analyze their social media footprint and gain an in-depth understanding of:
What's working for them – engagement, traffic to the website, follower count? And what is not.

What are some new opportunities to grow and engage their audience?

How can they utilize it for achieving their inbound marketing goals?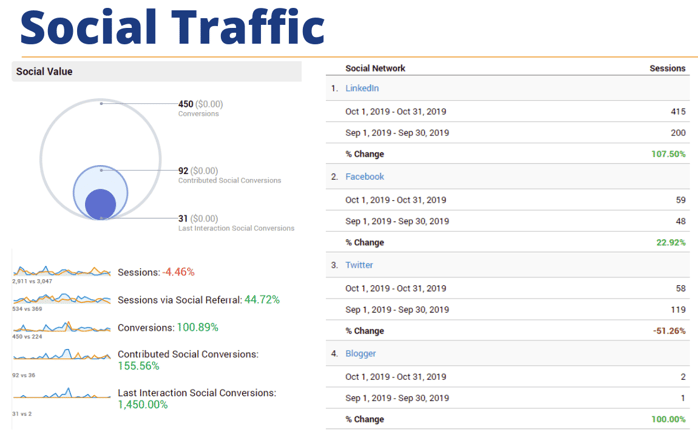 A social media audit is beneficial for brands looking to improve their brand presence, as well as audience engagement. It provides the much-needed opportunities for reflection and growth.

HubSpot Portal Audit
Since the business used HubSpot for their inbound marketing, an audit would be incomplete without a review of their HubSpot portal.
An analysis of the following elements were conducted to check for their effectiveness and performance.
Landing Pages

Forms/Form Fields

Thank You Pages

Personas

Calls-to-Action (CTAs)

Nurture Sequences

3. Competitor Analysis
Next up, 'Vigilant Enterprises' decided to go for a competitor analysis as well. A rather important step if you ask us. This is where you compare your inbound marketing efforts to those of your competitors, and identify gaps, as well as areas that might bring you competitive advantages in the future.

Some metrics used for comparison are:
Organic Positioning

Brand Reach

Domain and Page Authority scores

Top-performing Content

Social Engagement
SEMrush, Moz, Ahrefs, MarketMuse and SpyFu are some effective tools used in the analysis.

4. Sharing Findings and Recommendations
With the audits and competitor analysis done, the next step for 'Vigilant Enterprises' is to make sense of the findings from the reports.
Here, if you have an in-house audit team doing the analysis for you, things might get a little informal. But make sure you ask them to share reports and recommendations with you based on their observations.
As for 'Vigilant Enterprises', they had an agency do the audit for them. So they received the audit findings along with a detailed analysis of what aspects for their marketing mix they need to work upon. This took the form of a list of best practices, recommendations, and plan to fix the problems based on the level of priority.
The highest quality digital audits give detailed frameworks of using inbound to grow your business, much beyond the basic recommendations and tactics. They are personalized to your organization's history, industry and goals. And as the value generated from such reports are high, so are the costs. However, the actual cost to you is really based on your business requirements and the choice of audit that will bring maximum value.
5. Implement Solutions
Based on the audit results, it is now up to the company on whether they want the agency to fix their problems for them, or implement it themselves. Either way, post the audit, you will have a comprehensive strategic plan for moving forward with your inbound marketing. And so did 'Vigilant Enterprises'.
Additionally, they also hired an inbound marketing agency to improve their inbound marketing efforts based on the reports. Any guesses for who the agency was?!
Checklist for an Inbound Marketing Audit
Now that you are familiar with the steps for an inbound marketing audit, and how important it is for your business, you might as well prepare to conduct one.
Mind you, this might seem like a lot of work. And it is, with so much manual effort involved.
But if you use the right tools, and a right partner, you'll discover the task is not tedious after all.
Besides, once you make it a practice, and lay down a streamlined process, it becomes easier down the line.
And remember, consistency is the key.
So what are you waiting for? Get in touch with our experts now.