Hello there, we are excited to announce that this year we got a chance to attend the famous MozCon event in Seattle. And there was absolutely a lot that we learnt! To ensure you do not miss your chance at this, we bring you a quick recap of the key takeaways we had from some of the most interesting sessions at MozCon 2017.
Lisa Myers – How to Get Big Links
She was there to talk about getting backlinks. An important point: Loads of data, loads of backlinks may not always be necessary. Sometimes you need to keep it really plain and simple, it's the creative that connects.
Other key points to note:
The right outreach needs grit and perseverance. + enabling people to be who they are. Hire people with that for this. Ask questions to figure that out.

Elephant on a metro station – creative answers vs logical answers.

Metrics: give a link score for each link. And total that up. Not every link is of equal value.

Tools: Gorkana. Meltwater.
You can take a look at the entire session slides at How to get Big Links.
Ian Lurie – Great Content by Teams of One
He talked about the 7 golden rules of great content. One of his tips: It should make sense!
Another important editing tip: Read the content backwards one paragraph at a time. Then, read it backwards one sentence at a time.
Some suggested tools:
Pexels

Sublimetext

Canva color palette generator
The entire session slides are available on Badger-Driven Content.
Katie Cunningham – SEO-Intent Based Framework
She talked about the importance of fully understanding that "getting more traffic" is not the goal, it needs refinement. With that refinement, you may be up against sites stronger than you and so understanding the steps in the decision process can help you understand where to jump into the equation and you need to understand their intent at that stage.
Key points on how to jump in:
Document all goals

Audit your current state

Perform keyword research and identify intent-based modifiers

Map modifiers to intent stages

Find high intent keywords

Prioritize keywords with modifiers

Map to Target URLS & KPIS

Gather universal results data and data specific to your market

Map an action plan and prioritize by impact and what you can do
Next you need to deliver the strategy and build a KPI driven automated report. Here's a sample SEO Campaign Template.
Take a look at the entire session slides on How to Build an SEO-Intent Based Framework.
Will Reynolds – I'd Rather Be Thanked Than Ranked
He doesn't consider himself an SEO expert, rather a Web Concierge. You go to him asking for help, and he would but instead provide you a better solution!
He talked about how to fight machine learning with SEO:
Listen and learn from search behaviors

Don't solely rely on customer personas

Ask questions and give guidance

Look at competitor reviews and related keywords

Be brave enough to send your customers to a better answer
Rob Bucci – Reverse Engineering
Rob talked about how to reverse engineer Google's Research to serve up the best, most relevant content for your audience. For example, in E-commerce websites, the category pages shall always rank better than product pages. "Shirt" pages will outrank a shirt product page.
Kane Jaminson – Quit Organic Traffic
In this session, we learnt about 8 promotional tactics that can get you to quit organic traffic. Our key takeaway tactics:
Promote your posts on Facebook. Get lots of likes. Then target that ad to journalists/bloggers. Then a week later, send them an email, they will be like 'oh I have noticed your company on social etc…'

Avoid paying LinkedIn more than once. Pay LinkedIn once. Get them to your site. Ensure you have tracking etc. so that you can then create a custom audience and promote through retargeting on fb/google display.
Pete Myers – Facing the Future
Pete talked about 5 tactics that could lead to a scary change.
HTTPS: Chrome will start popping up warnings on landing pages that aren't secure

SERP features: Find out what keywords have rich features and decide accordingly – whether you want to create content for that or not

Rankbrain: Pick keyword groups and write naturally

Featured snippet (15%+ serps have)

Resource: Access the Whitepaper by GetStat on the best way to do it
Learn more about this session at Tactics that can Lead to a Scary Change.
Cindy Krum – Mobile First SEO
In this session, Cindy Krum exposed the truth behind mobile indexing.
Our key takeaways:
Mobile first indexing (not ranking)

Send search results (recipe) to Chromecast or google home and see how they render

Google hosted content ranks better (AMP, Answers etc are all that)

Google wants feeds (score, weather, exchange rate etc etc)
Here's a tool you can use: MobileMoxie.
Britney Muller – Increase Qualified Leads
In her talk, Britney Muller gave away 5 secrets on how to execute lean SEO to increase qualified leads.
Her key points in this session:
Conducted a test on moz.com. Removed all useless URLs (about 70K). And traffic went up. You don't realise how much useless content is hurting you. You think all content is good content and needs to be there. It's not. Your domain authority around a keyword gets affected because of all the not-relevant-anymore content

Implemented: Craft CMS, seems to be great for SEO
Stephanie Chang – SEO Experimentation
His talk was around building a framework for SEO testing to validate ideas & convince others of their importance. Some of his E-commerce SEO ideas include:
Add "Popular" to the H1s to the headings of category pages

URLs with filters, like "&filter=xyz" is a duplicate page – needs to have a canonical tag

Lots of 301 hurt the site
According to him, you should "A/B Test" everything, even title tags.
Rand Fishkin – The State of SEO & How to Survive Google's Trojan Horsing of the Web
Rand Fishkin, in this session, explained about how Google is trojan horsing the web! The deal with Google being "Do a great job answering the searcher's query & we'll rank you high.*"
*Unless we have our own results; then we get to be first.
As you give Google your content, you will be at the risk of Google using your data to build a feature that kills your traffic.
The solution to this is the 5 Part Path which includes:
An SEO strategy that segments searcher intent

Content strategy that prioritizes complex tasks

Business goals that synch w/ your SEO+content

A traffic strategy that diversifies sources

Incorporation of Google's future into your plans
To learn more, you can go through the complete session here: The State of SEO and How to Survive Google.
Of course, my personal favourite moment, meeting the Wizard of Moz, Rand Fishkin!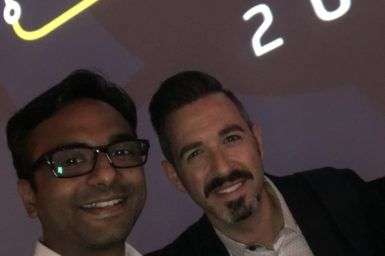 That's all folks. Let us know if you enjoyed our recap. We will also be covering sessions of Inbound 2017, stay tuned for more!
Interested in learning more? Take a look at The Brian and Dharmesh keynote from Inbound 2017.