We are thrilled to be featured by Clutch in their "Top Agencies in India" report. According to the report, we are among the leading agencies offering SEO and PPC Management services in India.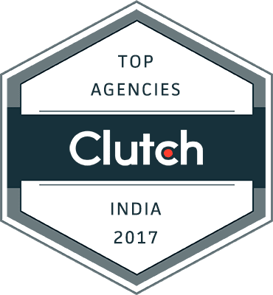 Clutch, a B2B research, ratings, and reviews firm, identifies agencies capable of delivering "successful and high-quality solutions to their clients." Their proprietary ranking methodology and impartial review process have set quality benchmarks across industries.
For their recent report, they surveyed over 1000 firms in across different industries, to rank the top 15 firms in each. The agencies featured in the report were chosen after a rigorous selection process based on in-depth evaluation of their work and detailed client feedback.
As one of the best PPC management services in India, we come in 1st on the ability to deliver metric, among the 15 market leaders in this segment. For the SEO services category, we are 2nd, among the top 30 companies in India, in terms of our ability to deliver quality results.
And we are extremely thankful to our clients for sharing such glowing reviews.
Our team is delighted because it validates our belief that if we do the right thing, the right results will come. We have always avoided taking shortcuts, or following practices that just promise quick results. We have focussed on staying helpful and relevant to our clients. And being recognized as one of the country's leading agencies for SEO and PPC is a huge boost for us.
Moving forward, we will work to stay on the cutting edge of marketing technologies. This, combined with our recent achievement of becoming a HubSpot Silver certified partner, helps us bring together business thinking, content, marketing automation, SEO, and PPC, to serve our clients better.
If you wish to explore our SEO and PPC management services for your company, just fill in the form below.