For companies that have been traditionally sales oriented or inbound marketing oriented, the account based marketing (ABM) approach can be challenging to institutionalize. It takes time, but it can happen, despite growth pangs, C-level people changes and distributed teams.
And once you do it, the gains are tremendous. Take a look what Niswey's client, Srijan, achieved with an account based marketing strategy.
The Process
Here's how Niswey's client, Srijan built its award winning ABM culture from scratch.
1. Account Identification
Srijan moved away from traditional modes of marketing team building the database to simply focus on the accounts the sales team wanted to pursue.
2. Persona Mapping
Niswey mapped the key personas defined to the personas within an account. With a goal of 50% personas to be matched, the Srijan team achieved mapping of 35% of the contacts.
Niswey also conducted exhaustive interviews with existing customers, going through industry research reports and studying people's Linkedin profiles to build out persona profiles.
3. Content Strategy
Each persona is mapped to a content plan. The Sales team uses this content in their follow-ups with their prospects. Niswey creates blog posts, articles and ebooks based on the experience sales reps share from their conversations with prospects.
4. Content Distribution
The Sales team uses email as their primary outreach platform. With different touch points, the ABM approach has enabled the Sales team to engage dormant accounts via advertising, PR and webinars to position thought leadership among the accounts.
5. Reporting
The entire ABM program is kept under detailed monitoring, and ensures that the team is focused at the account level. This is combined with analysis of individual contact behavior in terms of content consumed, engagement touchpoints etc, to determine additional needs and interest, and engage them further along those lines.
6. Alignment
Ensuring frequent and contiguous conversations was a challenge and that is addressed on an ongoing basis. The challenges included use of different tools for communication and focusing on different goals and hence different activities This has led to the creation of a single dashboard that measures account engagement, so sales and marketing are fully aligned.
The Result
The revenue gains from ABM are just the tip of the iceberg. Besides converting a high-value account, the ABM strategy also built a sustainable leads pipeline for Srijan, with highly engaged decision makers across accounts.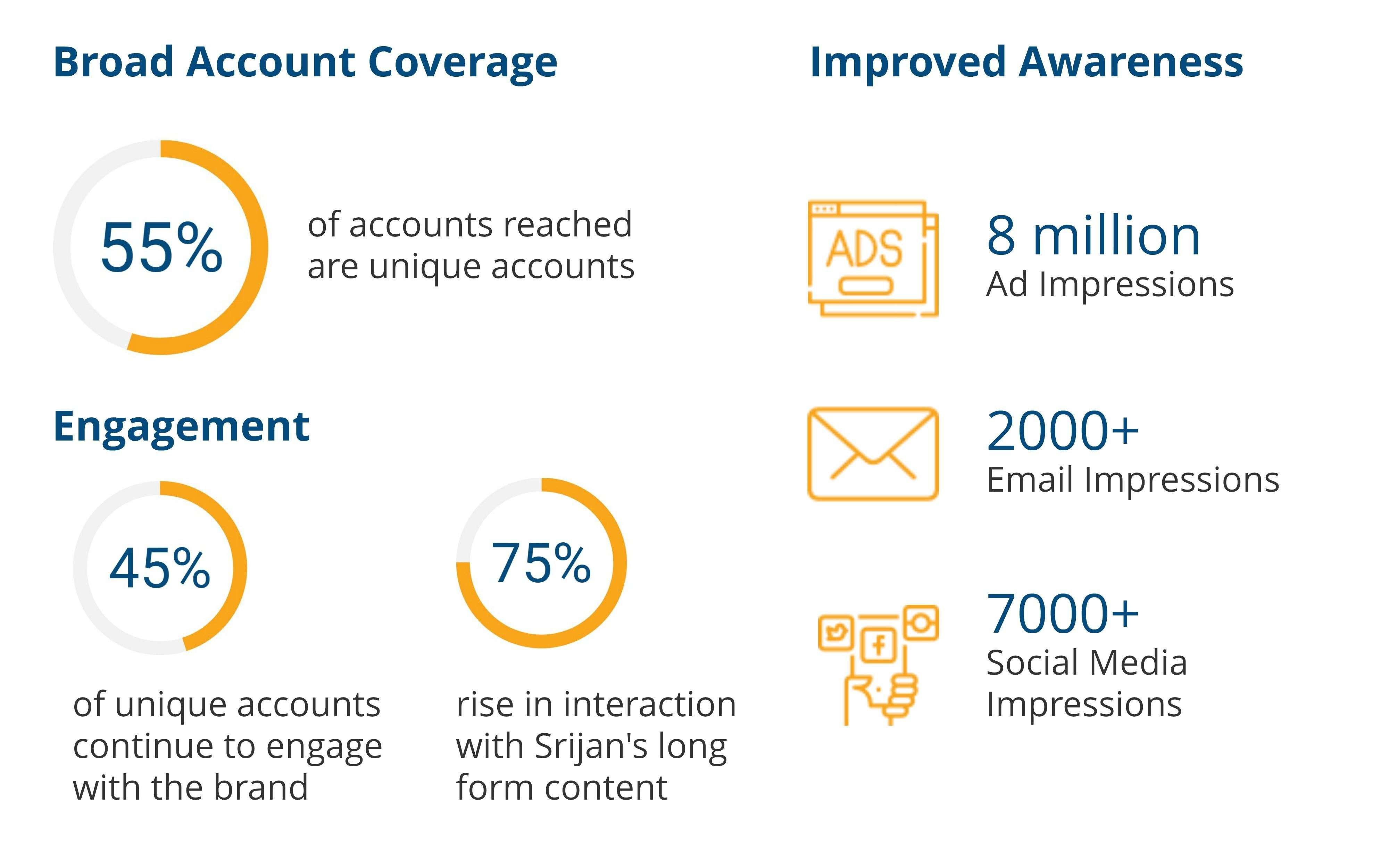 Looking for account based marketing services for your enterprise? Let's do some brainstorming on how we can help.