A custom HubSpot RingCentral integration that can be set up to exactly meet your requirements: Capture RingCentral data in HubSpot CRM, route calls to the right agents on RingCentral based on defined HubSpot properties, and more.
The Challenge
The client leveraged the RingCentral cloud communications platform for their customer service operations. The platform allowed them to route all incoming customer calls to a team of customer service agents, who handle all queries and ensure a great customer experience.
However, a key challenge for the client was that calls were being assigned to agents at random. This meant that a customer could be talking to Agent A the first time they call, and get routed to Agent B the second time. This negatively impacted the customer's experience because:
A lot of context and key customer information is lost, as different agents speak to the customer at different points in time
In case an issue was not resolved in a single call, routing follow-up calls to different agents meant that the customer had to explain their issues multiple times to different agents
The client wanted to ensure their customers had a seamless and delightful experience with their brand, by eliminating this random call routing.
Key Requirement: Assign each customer to a particular service agent, and ensure that all calls from that customer are always handled by the same agent.
Solution: HubSpot RingCentral Integration by Niswey
To achieve the client's key requirement, Niswey developed a custom integration between HubSpot and RingCentral.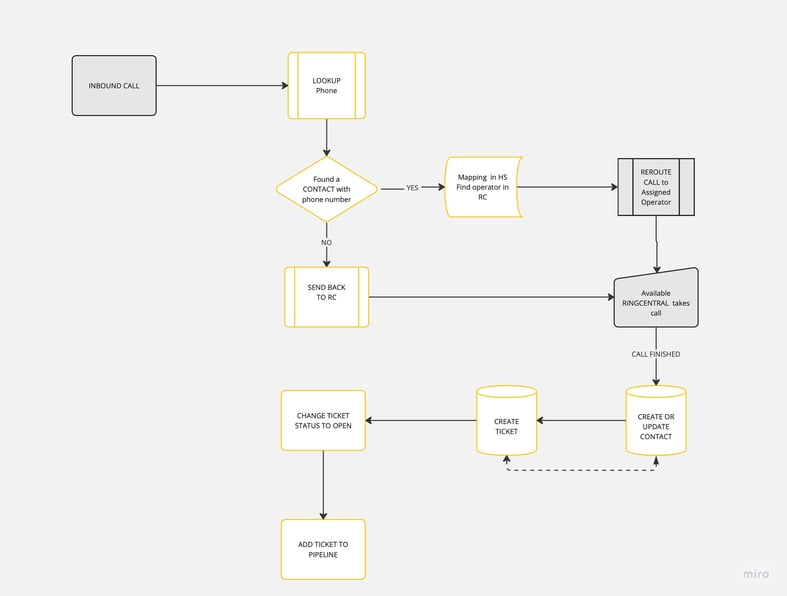 Here's how this works:
Every customer service agent operating on RingCentral is added to HubSpot CRM, with a unique "Contact Agent" ID


All of the client's customer contacts stored in HubSpot CRM are divided and assigned to the available customer service agents. So every contact now has a property "Contact Agent", which indicates the customer service agent that's assigned to them.


Now for every support call, the integration checks the incoming phone number, matches it to a contact in HubSpot CRM, and checks the "Contact Agent" property to identify the agent assigned to that contact


Next, the identified agent is matched to their corresponding ID in RingCentral, and the call is routed to the correct customer support agent.


This happens with every incoming call, ensuring that customers consistently get to speak to the same agent whenever they need support.
Taking this a step further, the integration also enables some additional call routing rules:
In case the assigned support agent is busy or unable to take the call, it is routed to the next available agent


In case the designated agent takes the call, but is unable to resolve the issue, it is transferred to an appropriate agent
In both these cases, the new agent who takes the call and/or resolves the issue now becomes the designated agent for that customer. The integration updates the "Contact Agent" property in HubSpot, and all future calls from this customer are directed to the new agent on RingCentral.
Besides this, the integration also ensures the following:
Create a new contact in HubSpot CRM, in case the support call comes from a new number
For each new contact created from RingCentral, update the "Contact Agent" property with the agent that took the call
Capture every support call on the Contact timeline in HubSpot, with details like call duration, call type, etc.
Ability to capture call recordings, and add them to the Contact timeline
Ability to capture voice messages left by the customer, in case agents are busy and the call is unanswered
Create a new ticket for each incoming call in RingCentral.
Business Benefits
For the client, the HubSpot and RingCentral integration delivers some key benefits:
Consistent, hassle-free customer support experience


Repeated conversations with a single support agent generate greater trust in the agent, and by extension, in the client's brand


HubSpot becomes a holistic source of truth as all customer service data - call logs, recordings, voice messages, and new customer numbers - flow seamlessly between RingCentral and HubSpot CRM


Quick facts about the HubSpot RingCentral integration
Time-to-launch: 1 week
Cost: Starts from US$ 2000
Requirements:

RingCentral account with access to a RingCentral developer account

HubSpot account for your business, on any plan
Want to know more about how our HubSpot RingCentral integration works, or talk about custom integration solutions for your business? Book a call with our solutions expert, and let's get started!