It is finally here. A way of working that brings down the walls between sales and marketing in B2B companies. That makes them work with each other and not for themselves. That makes them look at the same thing and not different ones.
Welcome to Account Based Marketing, one of the key B2B marketing strategies that you can't ignore.
As a digital marketing company focused on Inbound marketing, that works with mid size businesses, we are often the outsiders. Our job is is to help the Sales team but often we don't get to see much of them. We do our stuff, we get the leads and the sales team takes it up. As long as there are enough Sales Accepted Leads (SALs), there are no complaints.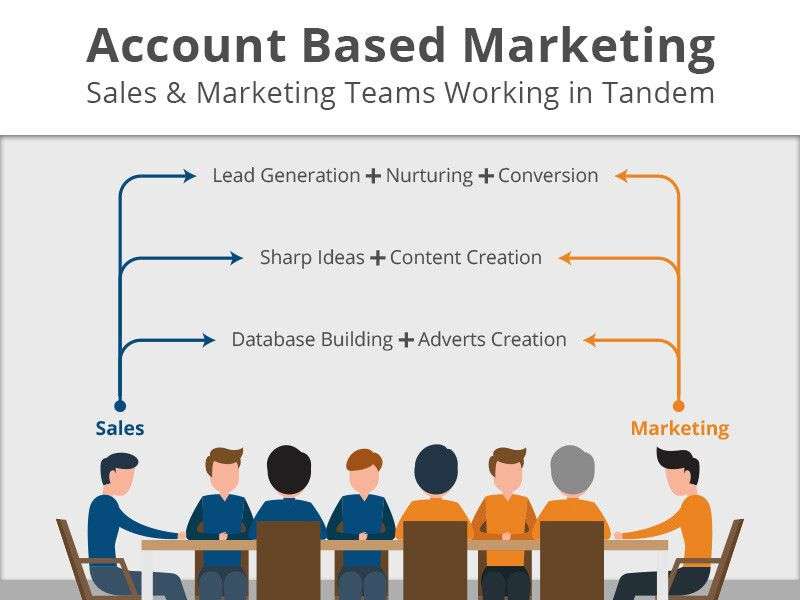 ABM changes that equation. You have to work in tandem with the sales team. While marketing goes about creating content, the sales team brings sharper inputs about the prospects' challenges and info requirements. And together they can give inputs on the database or the ad copies being run.
Because for once, one activity is bringing both the teams to the table to deliver results. Not to just get updates or hear the other viewpoints. But to brainstorm and work out what is best for the prospects, and eventually for the company.
Of course one might argue that sales and marketing should have always been working like this. But in most companies they are not. Simply because marketing has to generate leads while sales has to get the revenue. Once you make the switch to get marketing to also focus on revenue, the equation changes. Not that marketing is going to do the sales bit, or that sales can have its targets split with marketing. It simply means that marketing gets dead serious about focusing on the right accounts and not merely on, in most cases Marketing Qualified Leads.
Of course, ABM is not for everyone, or for every case. But it is known to work splendidly in cases where you have large accounts or accounts in specific verticals to tap into, nurture and build. You need some serious tech to make it happen, as well as a lot of sales and marketing smarts working in an integrated way. And that's why the term 'smarketing' is now popular.

ABM is not new, it has been around for as long as sales has been around. Today, the marketing technology enables it to be deployed at scale, with laser-sharp focus, and taking the risk out of relationships being dependent on a single person. ABM also works on targeted accounts, unlike inbound marketing where you attract leads to come to you.
Sounds too good to be true, almost like hype. But you can't fault with the logic, or the numbers being shared by users.
What's the caveat?
Marketing technology for ABM will not be a cakewalk, and hence along with your marketers with great ideas you also need people who have worked on many marketing tech platforms.

Expect to have a steep learning curve with almost all campaigns and be fearless to experiment, while treading the fine line of not annoying the prospect.
ABM is purely outbound, an extension of your inside sales team. So should you now put less attention to inbound marketing?
We don't think so. It really depends on the stage of your business, the size of your sales team, and the maturity of the inbound marketing techniques you have deployed. And for most B2B companies, a combination of the two is way forward.