When creating your online e-learning site, you might consider a platform like Moodle.
A free and open-source learning management system, Moodle is one of the world's most popular LMS to create your online learning site in minutes. Through it, your customers can simply order a course, and start learning once their account is created. However, there's just one problem.
Your customer data on Moodle is completely underutilized. There is no way to store this data, and analyze it for your business use via Moodle. For this reason, having a CRM like HubSpot may solve the problem.
And it did, to a certain extent. Our client was utilizing both platforms simultaneously.
Except what proved to be even more beneficial was to use a HubSpot Moodle integration solution instead. Here's why.
Before the Integration
Like we said, the client was already a Moodle customer, and was also utilizing HubSpot to store their data. But without the integration, this was a manual process.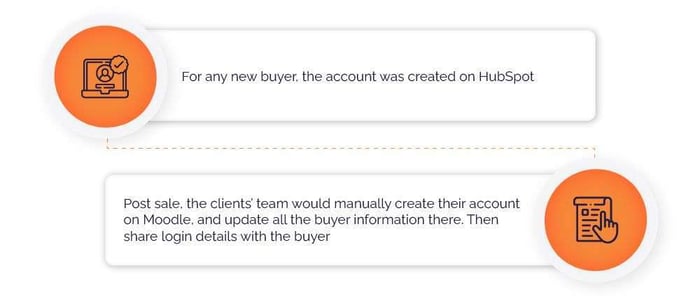 This of course meant a team had to be present to keep track of any new deals, and get involved in the whole process of account creation, and manual data transfer. All of which could be easily automated using the integration solution.
The client came across a Zapier integration for Moodle + HubSpot, which was very simple to implement. However it allowed only one Moodle action, i.e., to find a course. No user creation or enrollment was possible. So the client decided against using it.
Moreover, there was no way to add the course related information in HubSpot, since no such property existed to hold that data. What the client needed was custom object creation on HubSpot, along with the Moodle HubSpot integration. And here's how we built it for them.
Moodle Integration with HubSpot Custom Objects
Our solution for the client had two parts to it:
Real Time Data Exchange between HubSpot and Moodle
For any new deal created on HubSpot, the client wanted the relevant information to be updated in real time on the Moodle LMS. To enable this, we created a Webhook URL using the Moodle API to connect the two platforms HubSpot and Moodle.
As a result, whenever a new deal was created on HubSpot, the associated contacts from that deal and course were shared in real time to the middleware (our integration). And thus automatically updated on the Moodle platform.
Having the integration also ensured that the client could track the progress of any account on Moodle via HubSpot. This resulted in interesting insights around the usage and interest, enabling the client to market or upsell better to their existing accounts.
Custom Object Creation on HubSpot
While the buyer had their account on Moodle now, and could use it to learn a course, this information was nowhere stored on HubSpot. There was no in-built property to store this data, thus leaving a huge untapped opportunity for the client to track the user's progress, and have insights on their usage or challenges faced.
To solve this problem, we defined a new custom object 'Course' on the HubSpot portal.
We created its properties and customized the associations between the custom object and other standard objects on HubSpot.
Post defining the custom object, it was possible to import all courses related data to the client's HubSpot account. This then enabled the managing and usage of this data to: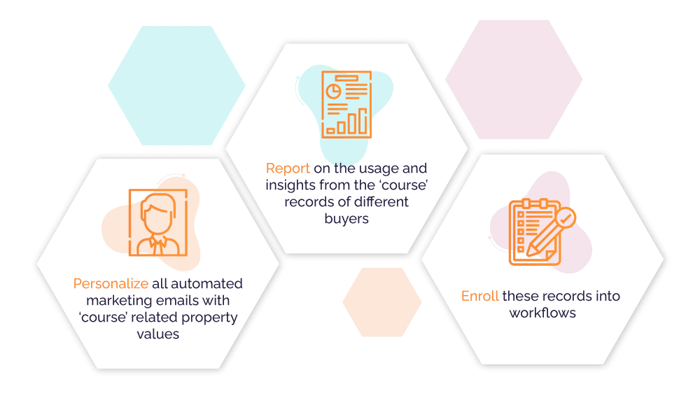 Currently, the only way to define a custom object in HubSpot is via API.
Requirements for the HubSpot Moodle integration
You need to be a Moodle customer.
You need to have a HubSpot account for your business, any plan.
You need to have an Enterprise subscription to use the CRM Custom Objects API.
Business Benefits
Unified Customer Data: Manage your Moodle courses directly from your HubSpot CRM and collect information on course completion


Automated Marketing Campaigns: Launch personalized email campaigns to your contacts list based on their usage insights


Reduction in Manual Effort: With the integration solution, data is automatically transferred between HubSpot and Moodle eliminating the need of manual efforts, and reducing any errors
Want to know more about how HubSpot Moodle integration works, or talk about custom integration solutions for your business? We can help!