Anahuac Mayab University became the first campus to adopt a HubSpot-WhatsApp integration as a means of lead generation and communication. Their growth has been phenomenal, leading them to 300% growth in lead conversion within a short span of two years.
But what were the challenges they faced before? And in what ways did using the HubSpot+WhatsApp integration impact their university? Let's find out.
The Challenge
Anahuac Mayab University was using HubSpot and inbound marketing to target their customers through email, ads and phone calls. But soon they discovered that this didn't really work for their target audience.
1. Lack of Response from Students
Before the HubSpot+WhatsApp integration came into play, the team would manage to get only 50-65% of the minimum number of students required to start a course. And there was a lack of response from students despite marketing through Google and Facebook ads, emails, and HubSpot workflows. Most of them also found phone calls to be invasive.

The sales team had reached a dead end. However, when they realized that WhatsApp was a popular medium of communication among their target audience, they decided to give it a try.
As a part of their experiment, the team only sent WhatsApp messages for one week. The results were great! People responded right away, or booked time to talk. Thus WhatsApp became their go-to platform to reach out to prospects. However, this quickly evolved into another challenge for the business.
2. No Visibility into Sales Conversations
With the shift to WhatsApp for their prospect conversations, the team lost visibility into what was happening with each lead once the conversation moved out from HubSpot. They couldn't tell if the leads had been sent the right information, in a timely manner. Nor could they keep track of these conversations in one place. Plus, the entire process of locating the phone number and then entering it on the salesperson's phone was tedious and error-prone.
That's when they started looking for a tool that could integrate HubSpot with WhatsApp. And found Niswey's HubSpot+WhatsApp integration.
The Solution
The HubSpot+WhatsApp integration works on the simple objective of communicating prospects on WhatsApp, while at the same time mapping all your conversations to the HubSpot CRM.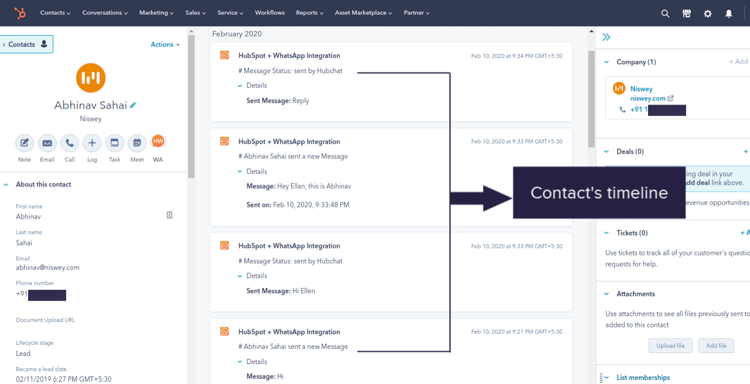 All that was needed was to set up a Chrome extension, and the Anahuac's sales team could get started right away with:
1. One : one WhatsApp messaging from within HubSpot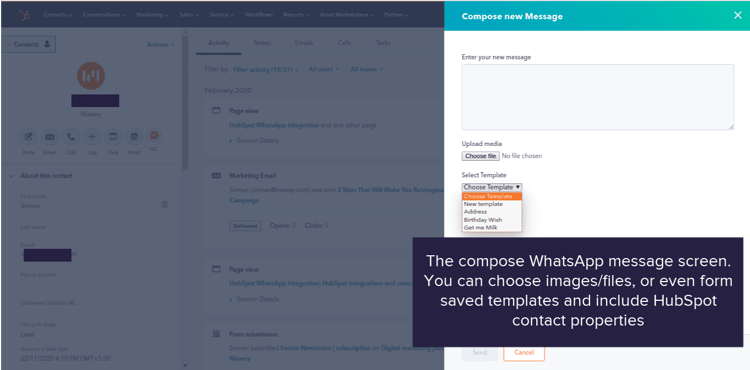 They could compose messages, add personalization tokens, and even use predefined template messages instead of composing a new one every time.
2. Viewing all WhatsApp conversations inside HubSpot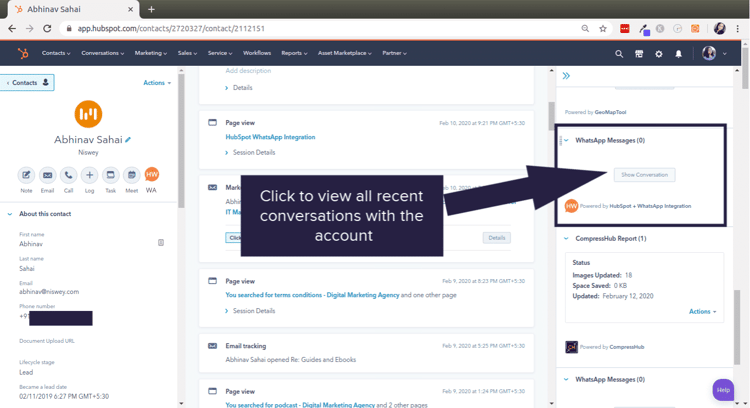 The team didn't need to have their WhatsApp phone with them all the time in order to communicate with prospects. They could do so from within HubSpot, as well as using the integration dashboard.
3. Using the integration dashboard to keep track of all WhatsApp conversations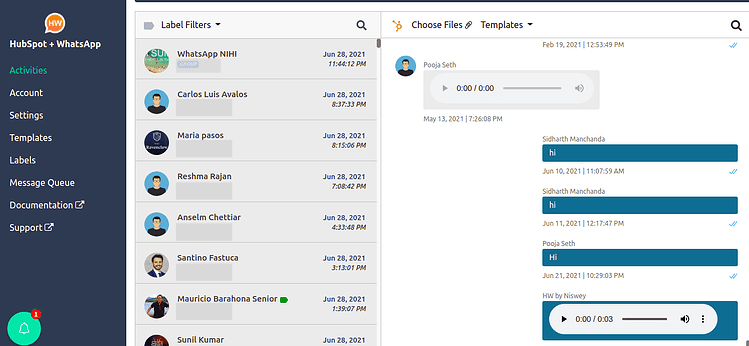 The integration dashboard now gives them a holistic view of their sales and marketing activities happening through WhatsApp. This has made it easier for Fabricio to track, monitor, and manage leads, all in one place. And has now become one of the most essential features of HubSpot+WhatsApp for them.
4. Setting WhatsApp messages as Triggers in HubSpot Workflows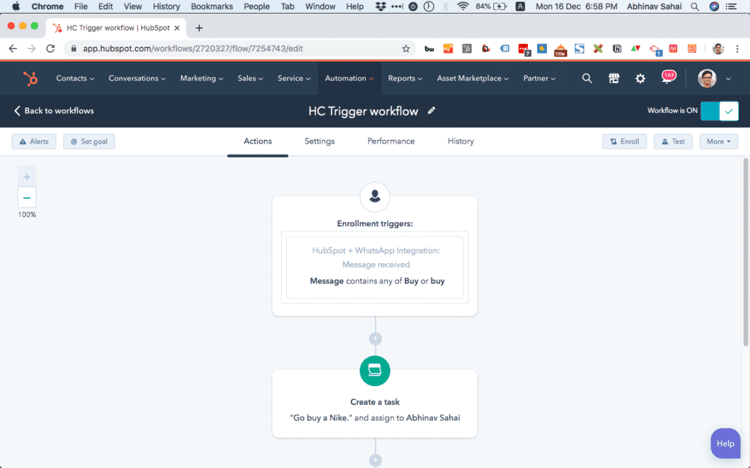 Using this feature, the team can set up workflows to automate internal notifications, task creation and reminders for themselves to ensure they don't miss out on lead follow-ups.
Niswey set up the HubSpot+WhatsApp integration for the Anahuac team in October 2019. They started with one license and are currently at 10.
The Result
In the same month when Anahuac Mayab University started using HubSpot+WhatsApp, they could see the changes in their engagement and response rates. And over time, the results were beyond their expectations!
As a result, Anahuac Mayab University was able to achieve their sales target for 2020 in 2019 itself! And since then, their conversions have increased by 3X!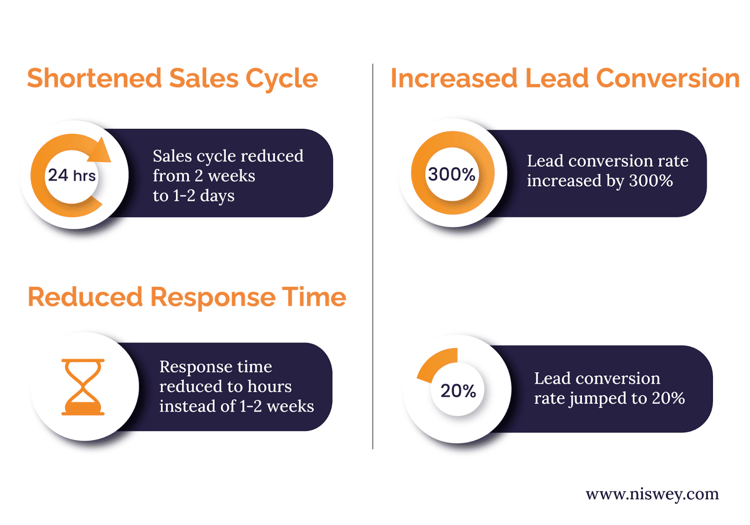 The Impact
HubSpot+WhatsApp integration became the key to improving the university's sales conversions and gave them a competitive advantage over other universities in Mexico.
Scaled Up Faster
The university made a great decision to adopt digital transformation and be the first to adopt HubSpot+WhatsApp as a part of their sales strategy. As a result, they have scaled up faster, expanded their sales department nationwide and their operations both nationally and internationally.
Shorter Sales Cycle and Better Lead Conversion Rate
With HubSpot+WhatsApp integration, the university was able to target their prospects at the most popular channel of their choice, WhatsApp. This led to faster response rates within 24 hours, and shortened their sales cycles significantly.
Enabling Sales Representatives
The integration enables sales teams to send the right information—regarding programs, courses, and the registration and payment processes— to the right audience, at the right channel, at the right time.
As a result, the lead conversions have increased. And so have their commissions.
The sales reps use the tool every single day, and find it to be extremely useful.
The university is growing at a rapid pace, and is now working on another transformation to automate its lead management process!
The Niswey team is continuously working with them, supporting them with new feature requests or use cases to aid their growth with HubSpot+WhatsApp.
Want to know more about how the HubSpot+WhatsApp integration can help your business? Book a Demo!