You are already familiar with the HubSpot WhatsApp integration, as well as the steps to get started with it. In this blog, we will take you through the tool's features, how it works, what it lets you do, and how you can go about it.
Your HubSpot Portal Account
HubSpot+WhatsApp Integration
Features of the HubSpot+WhatsApp Integration
A major requirement for using this integration is to have a HubSpot account. Why?
Because while businesses may use WhatsApp directly for prospects and customer support, integrating it with HubSpot enables you to keep track of all your customer data and communication within a single platform. Using WhatsApp from within HubSpot offers the following features:
Streamlining WhatsApp Communications from within HubSpot
The tool enables you to send 1:1 messages to prospects and customers from within HubSpot.
What's more, you can also record and view all WhatsApp conversations on the HubSpot contact timeline.
Sending WhatsApp Message through HubSpot Workflows
If you have the WhatsApp API, using the tool can also enable you to send messages using workflows. However, without the API, you cannot send automated messages.
Using WhatsApp messages as Triggers in HubSpot Workflows
You can use the power of HubSpot workflows in combination with WhatsApp messaging.
For example, you can create HubSpot triggers based on the message content and status, to initiate actions like send email, create tasks and much more.
Getting Notifications for New Messages and Add New Leads Automatically
Integrating your WhatsApp with HubSpot allows you to automatically add new leads from WhatsApp (as they contact you on your connected number) to your HubSpot CRM. You can also get notifications for new incoming messages on your computer.
That being said, to enable your HubSpot+WhatsApp integration to work in the above manner, you might first need to get some settings into place. Take a look:
Your HubSpot Portal Account
Our piece on the HubSpot WhatsApp integration documentation already lists the steps for you to get started with the tool. Assuming you have authorized your HubSpot portal and WhatsApp account for the same, let's now dive into what your HubSpot account enables you to do, and how.
HubSpot Contact Data
This is ideally your screen on viewing any existing contact in your account. But using the HubSpot+WhatsApp integration gives you an additional 'HW' icon.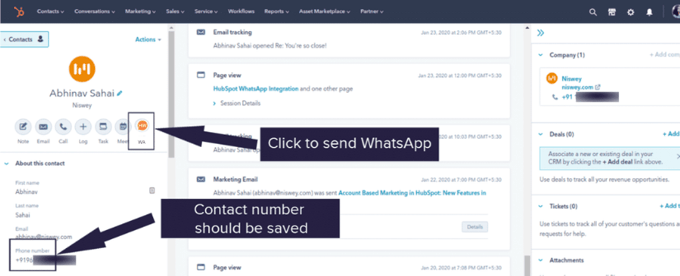 This enables you to send a message to your contact via WhatsApp. For this to work however, you must have your contact's phone number saved in your HubSpot contact database.
Composing Messages via HubSpot
So if you click on the 'HW' icon, a message box opens. You can compose your message, and also upload any image/media files if you want.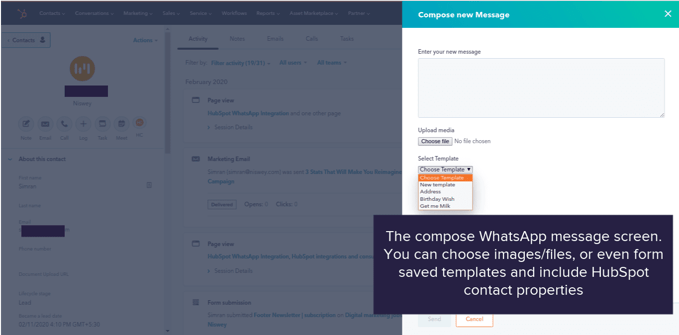 You can also choose any pre-existing template for the message. Or create a new one from your HubSpot+WhatsApp integration dashboard.
Click 'Send' once you finish composing the message. A message sending confirmation will appear on the screen. You can also view the status of the message from your contact timeline.
Contact Timeline
Each WhatsApp message you send or receive, gets populated on your contact's timeline in HubSpot, giving you a full view of all conversations at one place.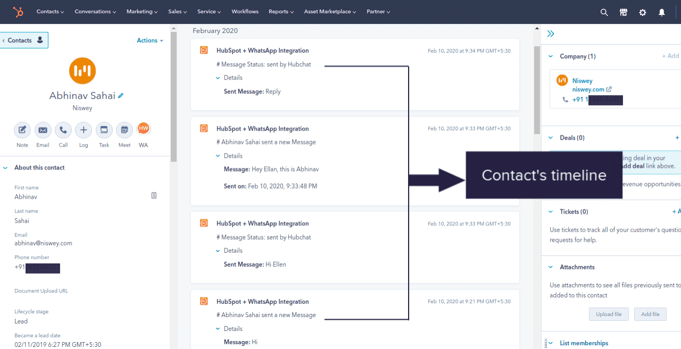 Conversation Overview
You can also view your conversations with a particular contact from here. Scroll down from the right hand section to find 'WhatsApp Messages'.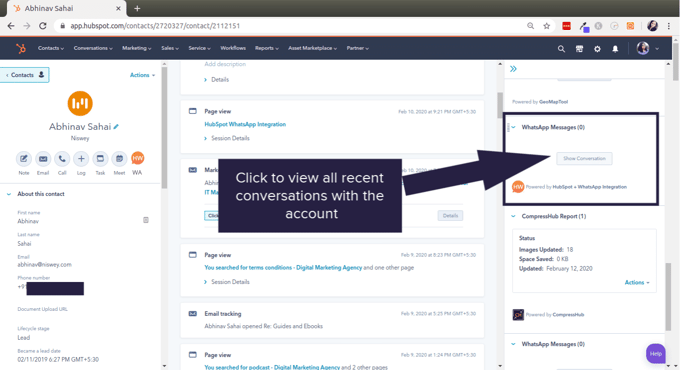 Once you click on 'Show Conversations', you can view all recent conversations with the account.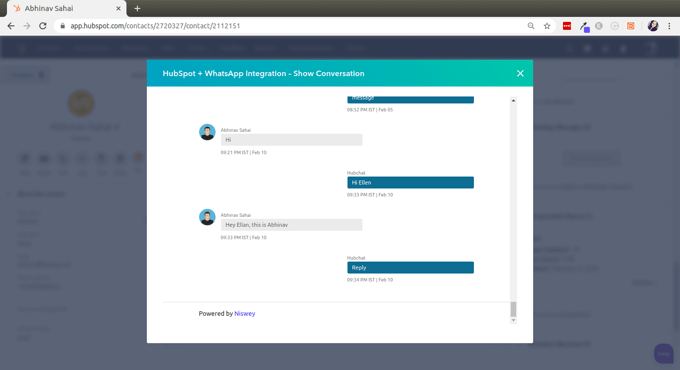 HubSpot+WhatsApp Integration
The second major player in this integration is the tool itself which enables you to do a variety of activities using the dashboard.
Dashboard
Once your HubSpot and WhatsApp authorization is complete, you can access the tool dashboard from the chrome extension you installed earlier.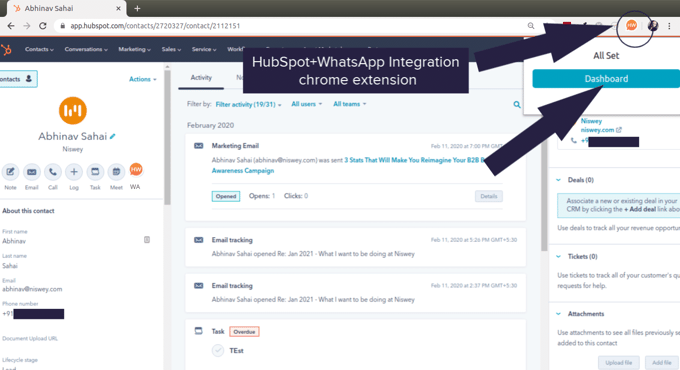 Clicking on 'Dashboard', if you are logged into your authenticated HubSpot account, will open a screen showcasing the recent activities from your account.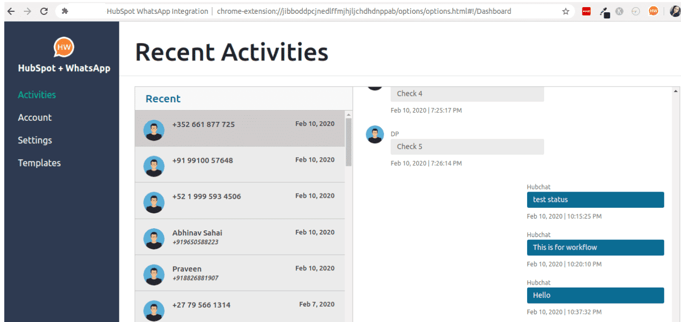 Having a dashboard is highly useful for marketing or sales managers to have a complete view of the conversations each sales representative has with their prospects. It gives them visibility into the progress and status of all connected accounts and allows them to manage the team efficiently.
Composing a Message
From within the dashboard, in the 'Recent Activities' tab, you can view all your recent messages from the accounts you/your sales reps are talking to.
Alternatively, you could also compose a message from here itself.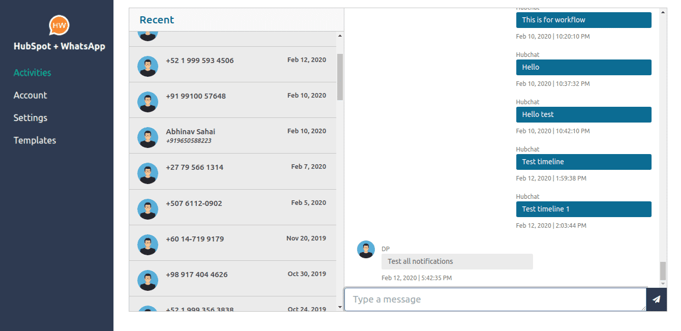 Account Information
Next is the 'Account' tab. Clicking on it will display your purchased account details: Name, country, your HubSpot portal and number of purchased accounts (1 account for 1 phone number).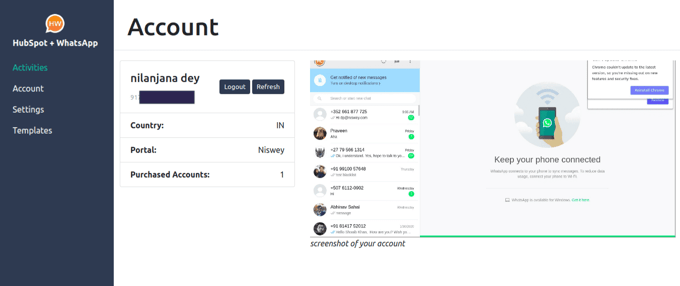 This screen will also display your WhatsApp phone snapshot in real time, but only if your phone is connected to the internet. If your phone is not online, the tool will not open. You will need to connect your phone and refresh, then you will be able to sync your messages.
Settings
You also have a Settings option where you can change your app settings:
Enabling 'Notifications for incoming messages' means you will get desktop notifications for all incoming messages from your assigned contacts

Enabling 'Notifications for incoming messages (from Unassigned contacts)' means you will get notifications for messages from contacts who are not assigned to you as well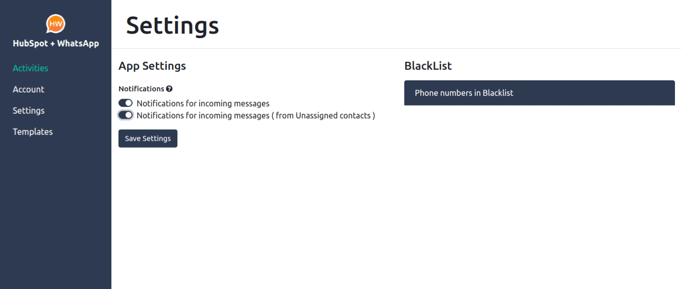 The third feature 'BlackList' shows you a list of numbers who you may have blacklisted or blocked from further communication using WhatsApp.
Creating New Templates
You can view any existing templates, or create a new template from this tab.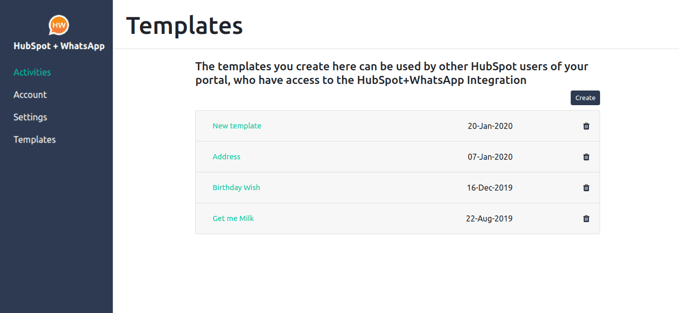 Simply click on 'Create', and add the template name, and pattern that you desire. Once done, 'Submit'. Your template is ready for use whenever you next send messages to your contacts.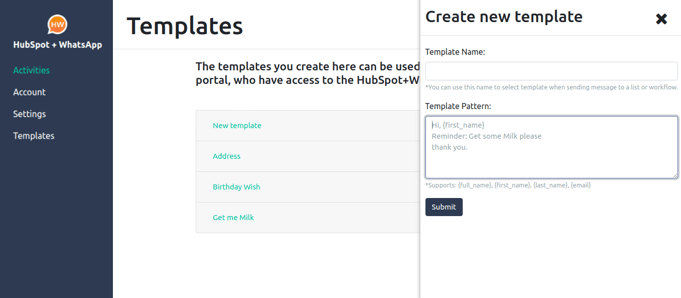 Creating Labels
Our HubSpot WhatsApp Integration also gives you the option to create 'labels' for your WhatsApp conversations in order to tag your contacts. For instance, you could add:
Labels based on sales agents' names to keep track of who is communicating with whom
Labels such as 'High Priority' for deals you want to stay on top of
Labels based on countries, industry, departments or any other segment relevant to your business
Once assigned, you can easily filter the conversations as per your required label, thus saving you a lot of time in sorting through an endless list of conversations.
The solution enables you to create a minimum of 50 labels (unlimited if you are on the $99 plan), and even assign multiple labels for any contact.
WhatsApp Web Business Reporting
Our latest on-demand feature on this solution is the WhatsApp reports dashboard. You can access it easily from the CRM Extension on the right panel of your HubSpot contact timeline.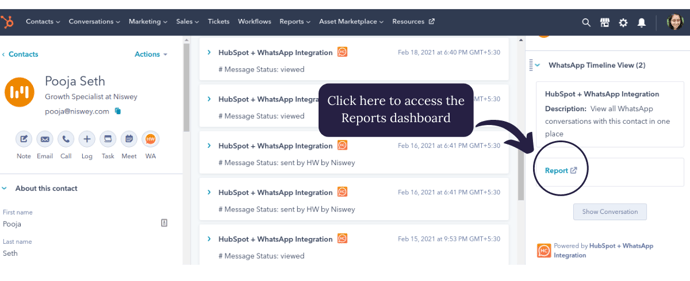 Then view the different data points from your WhatsApp conversations to get a fair sense of your communication effectiveness, detect early issues of inefficiency, and analyze what can be done to avoid them.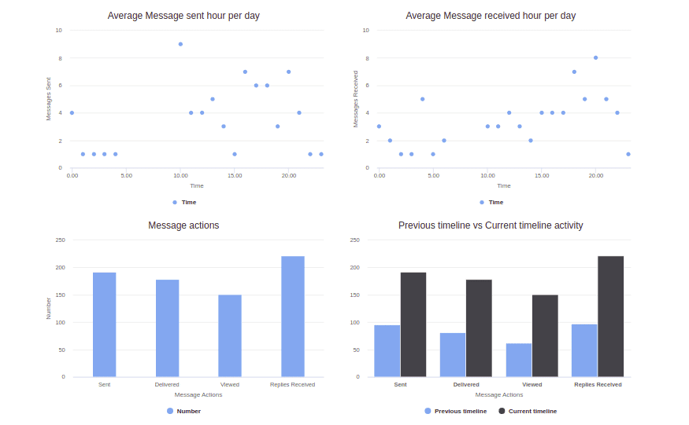 In a nutshell, it enables you to make data-driven decisions that improve your sales or customer support efficiency. And thus drives your business towards success. Watch the complete demo.
And that was everything around the integration and all that you need to know when using it.
Have more questions? Feel free to reach out to hw [at] niswey [dot] com.