Niswey has worked for Srijan for many years now. And they could count on us to develop their inbound marketing strategy, which would lead to an increase in the number of their leads. Here's how we achieved it.
The Process
We have helped structure their website content, developed the content creation engine, worked on SEO, ads and social media, and started the monthly e-newsletter. We also conducted their fortnightly webinars, right from ideation to promotion and execution. We have done over 70 webinars in the series so far.
However, what is most critical in this story is our regular meetings with Rahul Dewan, CEO, Srijan, every 2-3 weeks. It is an inbound marketing update session, but it is also about learning how the business is evolving, where things are stuck, and what Niswey can do to egg things on.
Once we had re-structured the services menu and created a lot of relevant conversion content, we started seeing improvements in engagement rates on the website. Leads were coming in from the website. In January 2014, Rahul asked us to set targets for leads and work towards them. We finally froze on the number of leads their sales team was geared up to handle. We were given time till March 2015 to hit that number. The focus also had to shift to the US, so an increase in US leads was also expected.
We sat down with Srijan's team and conducted customer journey and persona building workshops. We defined the user journey for the website. We built new content for the targeted persona.
On the tech front, we made CMS-level SEO changes, and enabled deeper tracking mechanisms. We embarked on continuous A/B testing for design and content. We made the e-newsletter US focused and targeted to the defined persona. Webinars were also re-branded and conducted according to US-friendly timings, and we invited speakers from all over the world. We also switched to social media activity happening in US timings. And we backed this with a US-facing Google Adwords strategy.
The Result
In 2 years, Srijan saw a 233% increase in leads owing to our inbound marketing efforts!
Growth of leads: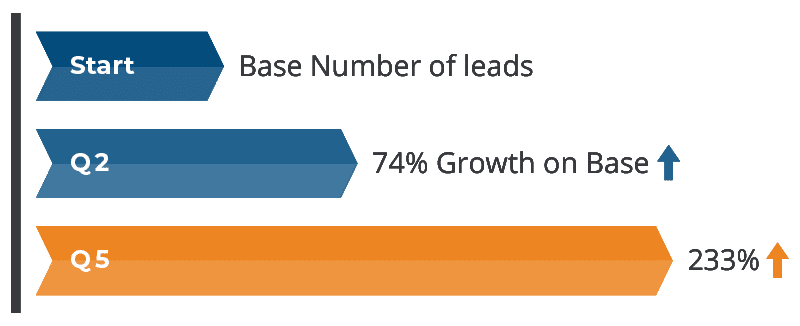 Srijan has been growing steadily—from two offices (when we started working for them) to five in India, and entities in the US and Singapore. The business has evolved, and now the target personas have also changed. Which means we now need new content, new collaterals and an account-based marketing strategy. On it now!