WhatsApp recorded 2 billion users on its platform in early 2020. So you know that it is vital for businesses to effectively communicate with their customers over WhatsApp. And you may already have your sales and customer services communicating with prospects and customers on WhatsApp.
However, now you need to go beyond that. You need to track those WhatsApp conversations. You need visibility into the kind of conversations happening, and how that might tie into the overall buyer's journey, or customer satisfaction. And if you are using HubSpot as a marketing automation or CRM tool, you need your WhatsApp conversations integrated with HubSpot.
We can help you integrate your WhatsApp and HubSpot accounts and even automate your WhatsApp messages.
But before all that, your business needs an active WhatsApp account. Given the types of WhatsApp accounts available today, businesses are often unsure of the difference between these accounts, and how that affects the integration or automation process. In this blog, we will take a look at WhatsApp Personal, Business and Business API accounts, and which solution will work best to meet your business needs.
Types of WhatsApp Accounts
Personal Account:

This is the WhatsApp account which is individual to a person, and it is associated with that individual's SIM card. Each individual can only have one personal account for one number.
Business Account:

This is mostly used by local businesses and small/medium enterprises. Similar to a personal account, a business account is also linked to one phone number, which is accessible by only one person. However, it allows businesses to communicate additional details about the business, such as business profile, working hours, etc. It also has additional features available, such as:
Canned/quick responses

Conversation labels

Ability to set an away message
Business API Account: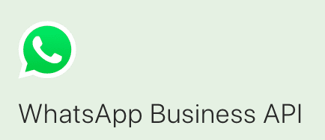 This solution has been specially designed keeping in mind the needs of large enterprises. It allows automation, and provides higher messaging volumes than a simple business account.
An account with an approved Business API can only be leveraged through an official provider.
The following features make it highly desirable for large businesses:
Verified Business profile

Send bulk notifications

Use automation

Multi-agent access
Now that we have covered the different capabilities of each type of WhatsApp account, let's look at the features offered by integrating them to HubSpot.
Features Offered
Since each WhatsApp account has different capabilities, their integration with HubSpot also results in different benefits for business users.
If your business is using a Personal or Business account, then HubSpot+WhatsApp Integration is the best solution for your sales and customer service needs.
Businesses that have an approved Business API can additionally leverage WhatsApp Automation.
Here's a brief look at the features provided by these solutions: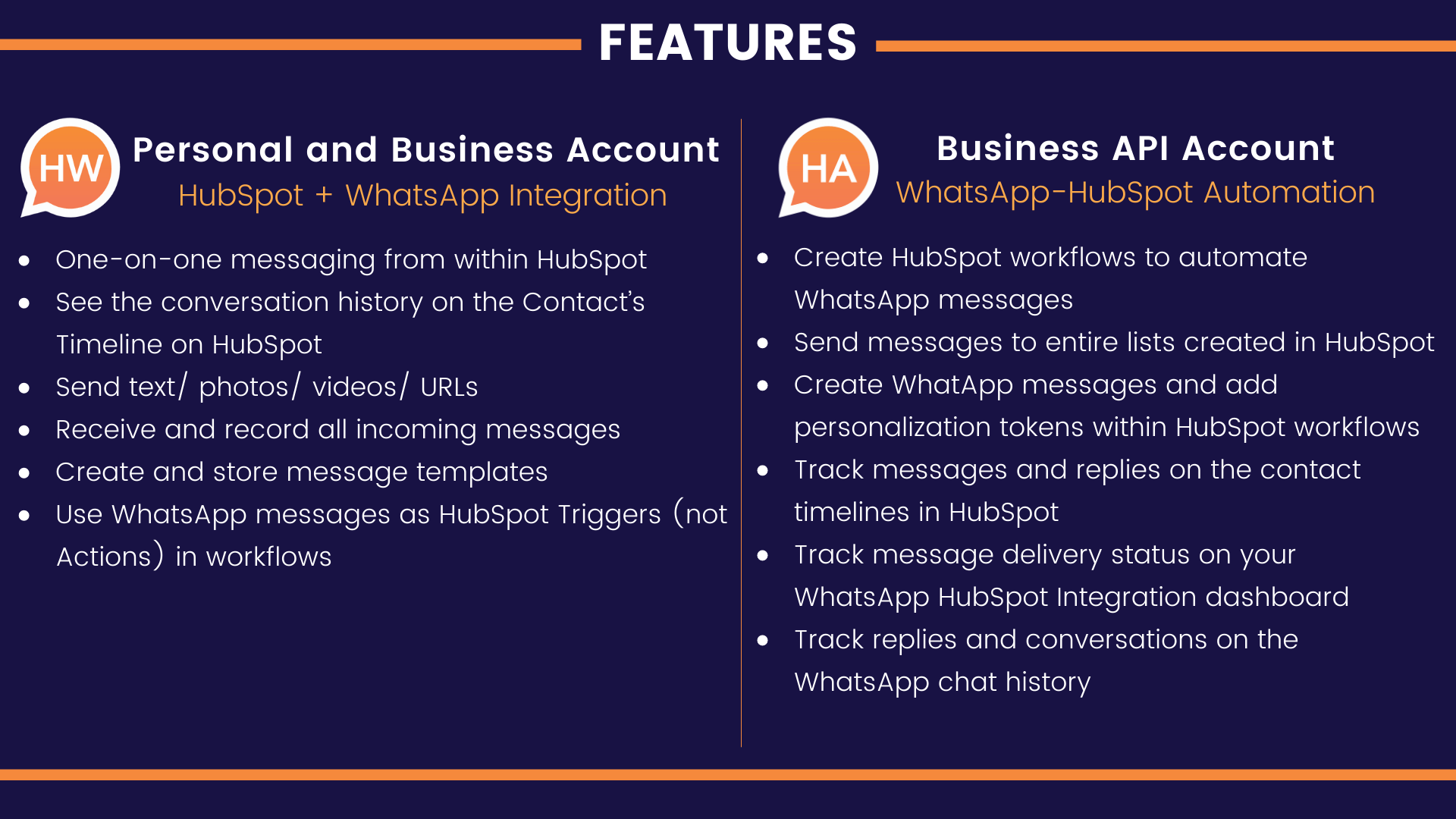 Onboarding and Integration of WhatsApp Accounts
As with the features offered, the onboarding process also differs for the different types of WhatsApp accounts. This difference is mainly on the basis of the integration process and the onboarding cost.
But the prerequisites for the onboarding process remain same for all the accounts, which are as follows:
An active WhatsApp account/ Whatsapp API account

An active HubSpot account

An active HubSpot+WhatsApp Integration Account

HubSpot+WhatsApp Integration Google Chrome Browser Extension
Let's take a look at how each account is integrated with HubSpot.
Personal and Business WhatsApp Account
The integration of both these accounts follows the same integration process:
Become a HubSpot User

Purchase the HubChat Tool

Install Free Chrome Extension

Select Channel and Authorize Your Phone Number

Authorize HubSpot Portal

Start Using!
Integration Cost: Free Onboarding
Business API Account
For this type of account, a WhatsApp API needs to be generated for your business from WhatsApp approved providers. With Twilio, it takes 15-30 days to acquire the WhatsApp Business API. Once you have access to the same, we take 7 days to integrate it with HubSpot. This API provided by Twilio is required to send automated and templated messages, which otherwise cannot be sent using a regular phone, as per WhatsApp policies.
Once you have a WhatsApp Business API, an additional one-time cost of US $100 is charged for integrating it with HubSpot.
Integration Cost: US $100
The pricing criteria for the messages being sent using each account also vary:
Personal and Business Account:

The businesses using these accounts need not pay any additional sum for the WhatsApp messages being sent.

Business API Account: These users are charged a per message cost for the WhatsApp messages they send, which is directly payable to WhatsApp/Facebook. View its pricing

.
So you have now understood the differences in the integration process and features offered to the three types of WhatsApp account users. Based on this, you can make an informed decision about which WhatsApp account best suits your business' needs. And thereby opt for the solution which will provide you optimal results.
Looking to track your WhatsApp conversations on HubSpot?