"Niswey team, I always knew you were diamonds, now the world knows as well. Grateful to be working with you!" — Suma EP, CEO Niswey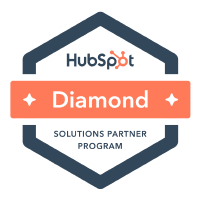 Yup that's us, Niswey — an inbound marketing and account-based marketing agency based in New Delhi, India. And we are immensely proud to announce that we are now a Diamond Solutions Partner of HubSpot! (Thank you, thank you!!)

From becoming a HubSpot Certified Solutions Partner in 2017 to a HubSpot Diamond Solutions Partner in 2021, we've come a long way. And if you'll allow us, we'd like to take you down memory lane into our association with HubSpot and why becoming a Diamond Partner is a big win for us!
Our Affair with HubSpot…
Ever since our foundation in 2011, inbound marketing has been at the heart of our business. Hence it was only a matter of "when", and not "if", to form a partnership with HubSpot, the hands-down winner for implementing inbound marketing for any organization.
Thus began our affair with HubSpot.
Moving up the HubSpot Partner Tiering
The HubSpot Solutions Partner Program is an ecosystem of experts that offer marketing, sales, customer service, web design, CRM, and IT services. It's a global community that believes putting customers first is the key to growth, and enables its members to offer a wide breadth of more sophisticated solutions across the entire customer experience.
The evaluation of HubSpot Partner Tiers takes place once a month, with a rigorous calculation based on parameters such as:
MRR (Monthly Recurring Revenue)

Retained clients

Portal engagement

Inbound marketing success
And currently, Niswey is one of the only four Diamond tiered partners in India.
Here's how we've moved up the tier since 2017: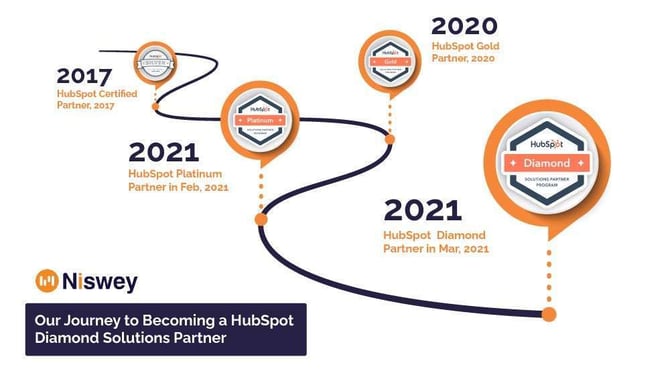 As you may have observed, it took us 3 years to get to Gold, then another year to move to Platinum and now within one month, we have taken the leap to Diamond!
Our secret mantra for success? Help our clients achieve their business goals.
Yes, business goals, not just marketing or sales goals. And we are very grateful to the HubSpot team for giving us tremendous opportunities to brainstorm on solutions that enable customers.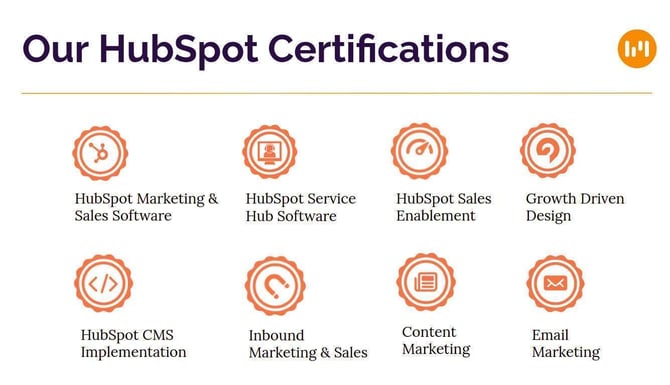 Becoming a Part of the HubSpot Ecosystem
While the partner tiering with HubSpot for our services clients is definitely one aspect of our association, there is more to it.
It was sometime in 2019 when we launched our first product HubSpot+WhatsApp Integration in the HubSpot App Marketplace. Today, it has:
400+ customers served

30+ countries covered

1 mn+ messages delivered
And since then, we've launched 2 more products, plus 3 offerings on the HubSpot Asset Marketplace too!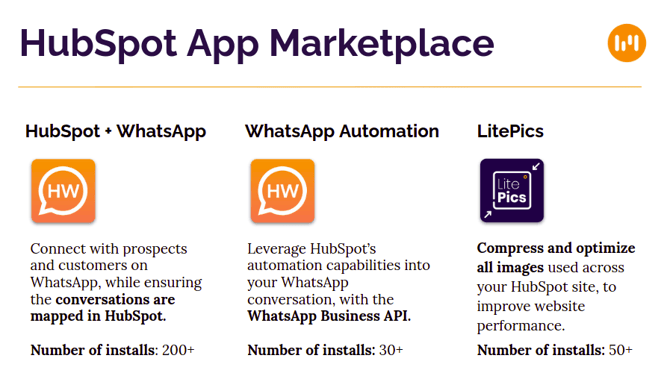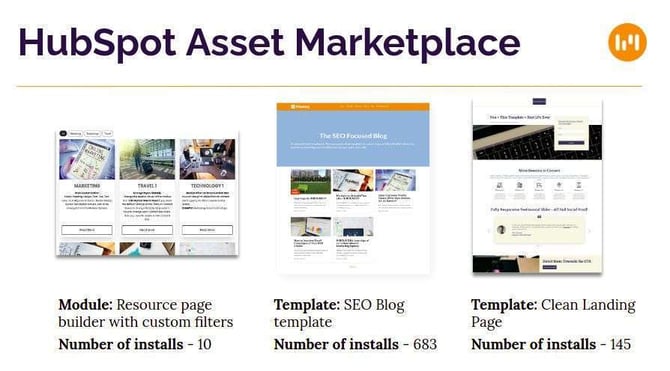 Not only that, but we've also had the good fortune to build several HubSpot integrations over the past few months. And the ones in the pipeline reinforce the fact that HubSpot is rapidly becoming the CRM platform of choice for companies looking to #growbetter. We have built integrations for:
As a company, Niswey started off as a marketing services agency. Today we are a martech company. We have martech products as well as deliver martech and marketing services.
The HubSpot ecosystem opportunity ahead is mind-boggling ($12.5bn by 2024, says IDC!). And we are so excited to be an active part of it.
"Working with Niswey has been the most wonderful experience for me as the team really understands HubSpot and owns in-depth knowledge about the product. Their technical integration skills are second to none! Team Niswey has contributed a lot to our HubSpot ecosystem and helped various clients on setting them up for success."
— Kathambari Ravichandran, Country Channel Manager, HubSpot
Our Contribution to the HubSpot Community
Niswey has been a follower of the 'Inbound' philosophy since our inception. And time and again, we've been its active propagators— attending events like 'Inbound', 'Grow with HubSpot' as well as hosting a series of 'HubSpot User Group' events since 2019!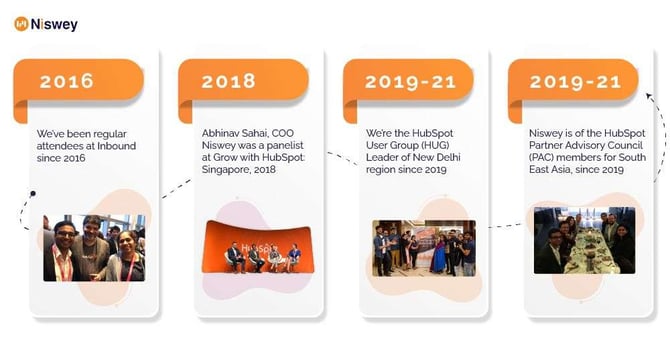 What This Means for Our Customers
A long-term partnership means that both HubSpot and Niswey are invested in each others' growth. More importantly, we are both invested in our customers' growth, which is the backbone of Niswey's philosophy of doing business— delivering value to the client's business, at any given point in time.
"As a HubSpot solutions and app partner, Niswey is focused on servicing B2B clients across the Indian subcontinent. Their team is upskilled with all HubSpot certifications and are well positioned to service clients in the region. Niswey's business strategy is focussed on developing technical expertise and some of the areas of work that they are doing around the HubSpot ecosystem includes integrations, developments and marketplace offerings."
— Chhavi Porwal, Senior Consultant, Solutions Partner Program, HubSpot
This year has brought us some other great recognitions too. We were recently recognized as among the Top 15 HubSpot partners in the world by Clutch. Also a member of the 2021 HubSpot Partner Advisory Council, and HubSpot User Groups leader, New Delhi chapter, for the third year in a row.
And now, within a few weeks from that achievement, we have another new shiny badge. It looks like 2021 is going to be our year after all 🙂
Next stop Elite!
Looking for inbound, account-based marketing services, or a HubSpot agency that invests in your business growth? Niswey is the place to be!