Ensure data sanity and compliance by defining standard data input flows for your team in the HubSpot CRM
The Challenge
A detailed discovery process with the client highlighted that while they had a standard lead management process, it was sprawled across multiple tools and spreadsheets. The leadership's vision was to bring this entire process to HubSpot and optimize it further to increase conversions.
As Niswey deployed HubSpot-powered solutions to manage and automate DHI's processes, one of the key transformations was in the lead-capturing process. A custom HubSpot integration with their calling software, Convoque, ensured that a new contact is created in the CRM as soon as a lead calls on one of their advertised phone numbers.
Once the call is picked up by their calling agents, they speak with the lead to gather more information and add it to the CRM.
At this stage, DHI face 2 technical challenges:
#1 Different calling agents were capturing lead data in different ways. Barring key contact details like name, phone number, emails, and a few standard questions, not all agents were collecting all the necessary lead data on their calls.
#2 The management was unable to define/mandate what data points are to be collected in the CRM. This was because contacts get created in HubSpot as soon as a lead calls any of the clinics, but the required data is captured by an agent only while talking to a lead once they pick up the call. And there was no native way in HubSpot to define any properties as required properties to be collected after a lead is already in the CRM.
In essence, the management team was unable to standardize the data-capturing process across their clinics, and ensure data sanity in the CRM.
The Solution Deployed - HubSpot Flow Builder
We designed the Flow Builder app to counter this challenge. Implemented as a CRM card, and with an easy-to-use interface, this custom app allows:
DHIs admins to:

Strictly define data input flows for their calling agents
Set up what properties need to be filled on the call with the lead, and which of them are required and which are optional. This covered properties pertaining to basic contact information, data pertaining to their treatment requirements, and data to be captured during the consultation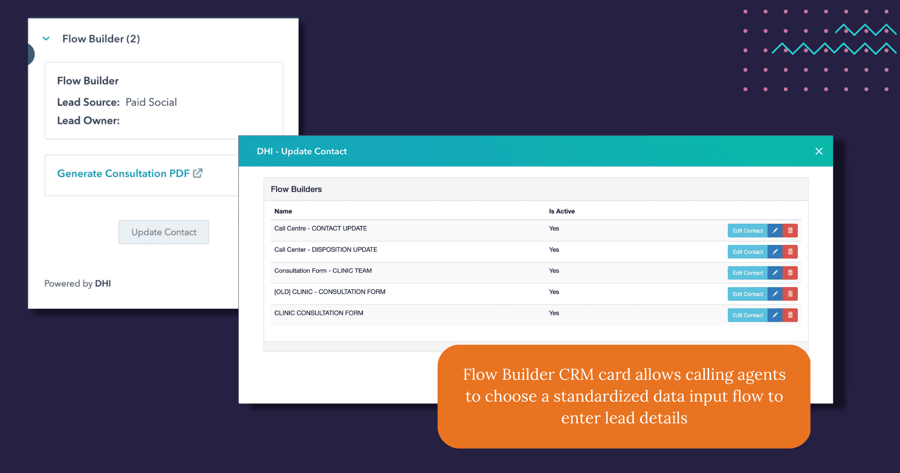 Building the data input flows by directly pulling the contact properties available in their HubSpot


Implementing dependent fields, i.e. certain fields or properties will be available for updation based on the existence of other properties, enabling managers to define dependent relationships within contact properties


DHI calling teams to easily enter necessary data into the CRM while on call, with a user-friendly interface within HubSpot




Allowing all entered data to be compiled into a consultation document to be sent to the lead, with just one click


Business Benefits with the Flow Builder
Correct lead data is crucial for DHI teams to effectively nurture and convert their leads. The Flow Builder app:
Ensured

data sanity and standardization

across multiple clinics and calling teams.


Increased

efficiency and reduced errors

in the data input process, as each agent knew exactly what information to ask and enter


Gave managers greater control over the data-capturing process, that

simplified compliance and reporting
Is this the integration you need?
If you want to bring a very strictly defined data collection process onto HubSpot, and then make sure that the CRM is customizable enough to accommodate and enhance this process, Flow Builder is the app you need.
Data sanity and adherence to strict, error-proof, data input processes are crucial for every organization. Team managers and admins need control over defining required/non-required fields, dependent fields, and which team can update which properties.
Currently, HubSpot allows you to define data input for updating contact properties, with the Sales Playbooks feature. But there are a few key differences:


Native Sales Playbooks

Custom Flow Builder

Required HubSpot Plan

Available only with HubSpot Sales Hub Pro

Compatible with all HubSpot plans

Logging object properties

Can update Contact, Company, Deal and Ticket records

Can update Contact, Company, Deal and Ticket records

Defning dependent fields

Cannot define dependent property fields

Can define dependent property fields

Defining required fields

Cannot define required property fields

Can define required property fields

Defining access control for data input flows

Cannot

control access to different playbooks for different teams

Can define access to different data input flows for different fields
All said and done, the Niswey's Flow Builder app is the best solution for you if:
You want to standardize how (in what order) contact, company, or other object data enters into the HubSpot CRM


You want to define dependent fields/properties that need to be filled in, based on the existence of other properties


Create different data input flows for different teams, and enable access control to different flows


Ensure quick and efficient data entry into the CRM, with single-pane access to everything your team needs
Think that captures your business context just right? Let's get the conversation started. Book a time with our expert, and discuss your requirements.