The Challenge
Operating across a series of clinics across the country, DHI's lead management process was manual, and spread across different systems. This gave rise to specific challenges:
#1 Siloed data
Lead data was gathered and

stored across disparate spreadsheets and standalone systems

- Google, social media, emails, a call center number, website forms, JustDial and SocialBlue


Compiling and unifying this data for greater visibility, was a

manual and time-consuming

process
#2 Inefficient lead management
Leads leaked out of the system due to manual errors, and a percentage of leads generated by marketing teams were never contacted by the pre-sales teams


Follow-up time was 10-24 hours due to slow manual processes, causing leads to go cold
#3 Low conversion rates
Low visibility of the customer lifecycle for the sales team, which meant there were no concerted nurturing and engagement efforts to convert leads


Manual management of follow-ups meant that a percentage of the leads were never optimally nurtured for possible conversion
The Solution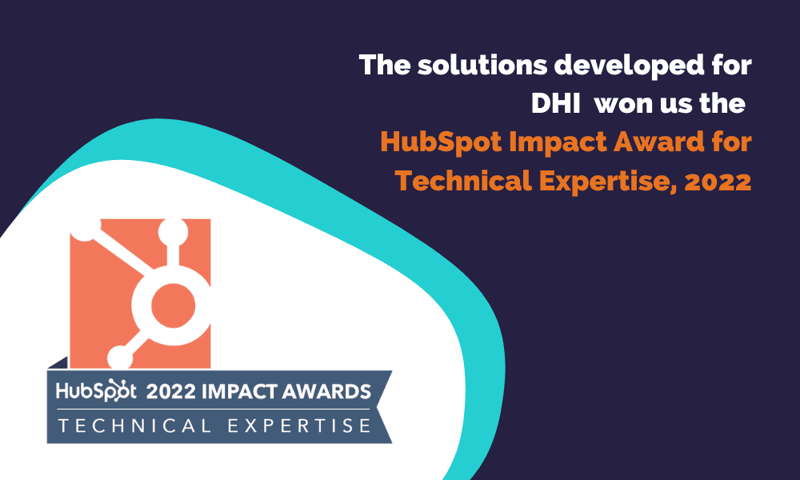 Niswey started off with a detailed discovery with DHI to understand their business processes, tools, and lead sources. It emerged that while they did have a standard lead management process, it was sprawled across multiple tools and spreadsheets. The leadership's vision was to bring this entire process to HubSpot, and then optimize it further to increase conversions.
Here's how we made that happen.
#1 Centralizing lead data in HubSpot
The first part of the solution was to ensure that HubSpot was used as a centralized contacts database, and that all contact entries into the CRM were automated.
HubSpot forms, ads, and social media integrations were set up for the automatic entry of leads into the CRM.


Custom HubSpot integrations with JustDial and SocialBlue were developed, to bring leads from these channels into HubSpot


A custom integration of DHI's calling software, Convoque, was developed with HubSpot, to enable contact creation of new leads via incoming calls, so they do not miss a single lead. The integration also allowed DHI to make calls, and log calls recordings in the HubSpot CRM.

The client wanted to continue using Convoque as it was integrated with all their phone numbers and set up with their custom business logic for call routing, recording etc. This integration enabled the DHI teams to leverage their Convoque set-up right from their HubSpot portal.
#2 Optimizing lead management in HubSpot
Once we ensured that all lead channel led to HubSpot, the second order of business was to set up an efficient lead management process. We looked at automating a range of lead management activities with HubSpot workflow combined with some custom applications.
All incoming leads were automatically assigned to calling agents for further action and follow-up, via HubSpot workflows


A custom app, Flow Builder, was developed to help calling agents to capture all necessary lead data/information into HubSpot, with zero errors


Custom functionality was built within HubSpot for calling agents to schedule follow-up reminders based on date and time specified by leads
At this stage, one of the key challenges shared by the DHI leadership was the fact that different calling agents were capturing lead data in different ways. Barring key contact details like name, phone number, emails, and a few standard questions, not all agents were collecting all the necessary lead data on their calls.
We designed the Flow Builder to counter this challenge. This custom app allows DHI admins to strictly define data input processes, and ensures that every singe calling agent logs the same data points, in the same manner, for every single call, across all their branches.
The Flow Builder thus helped DHI establish the fool-proof system to ensure data sanity and compliance, and standardize their lead data so that it can be leveraged effectively across sales and marketing efforts.
#3 Automate marketing communications
Now that lead management was set up and optimized on HubSpot, the final piece was to enable a set of automated marketing communication channels to keep leads engaged, and prompt conversions. Going beyond just phone calls, we set up:
Scenario-based automated workflows were used to send emails to prospects and communicate about their appointments.


The Netcore SMS + HubSpot integration deployed to manage automated SMS communications for marketing and customer support


Niswey's HubSpot WhatsApp Business API automation solution for HubSpot was also deployed for real-time acknowledgement and notifications to the contacts
The Results
It took about four months for Niswey to create a well-defined strategy and build custom solutions to get the complete DHI business process up and running on HubSpot. Today, DHI's marketing, pre-sales, sales, delivery and accounts use HubSpot-based processes to manage the end-to-end customer lifecycle.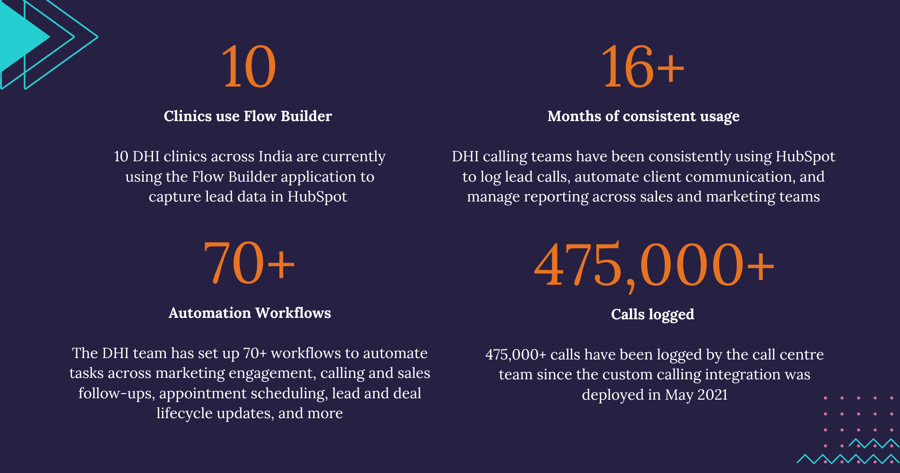 Powered by HubSpot and the immense possibilities it offers for customization, Niswey enabled a digital transformation at DHI. Bringing their processes onto a digital platform, enabling automation, and deploying custom integrations to solve key business challenges - all this helped DHI achieve:
#1 Increased Consultations
With process optimization, DHI was able to reclaim several leads that previously used to drop off across marketing and sales functions. This led to their number of consultations booked per month surpassing their previous best of 600 consultations, with an average of 672 consultations/month in the months after the solution was implemented.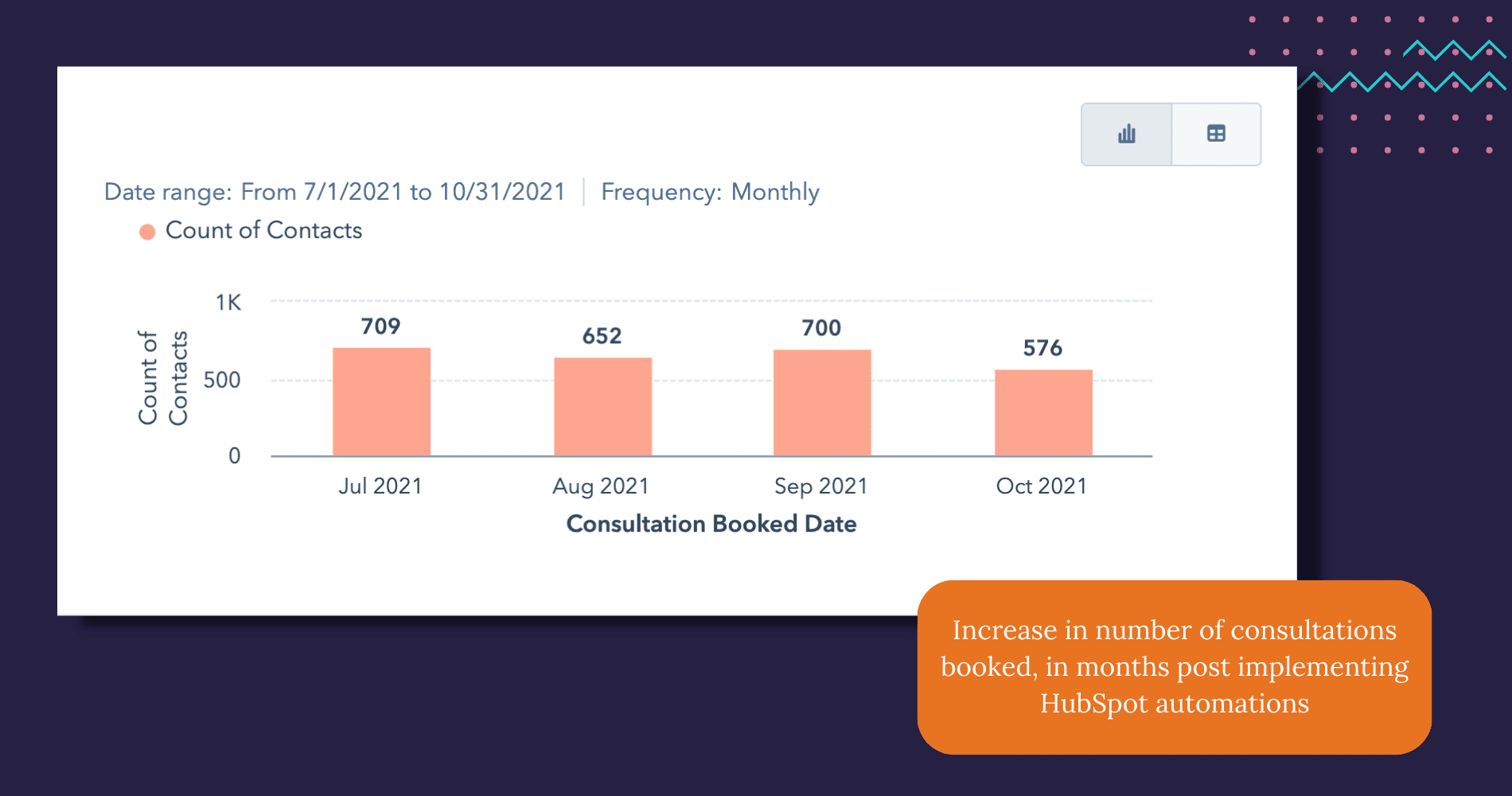 #2 25% Increase in Lead Generation
With process automation, marketing and sales teams now had more time to focus on lead generation, leading to a 25% rise in incoming leads with no increase in marketing spends.
#3 Reduced Follow-up Time
Automatic assigning of leads to calling agents enabled instant follow-up instead of the earlier 10-24 hours, thus improving conversion rates.
DHI is rolling out these solutions across remaining the clinics, and their team now independently leverages HubSpot to continually optimize their processes and orchestrate digital campaigns. And we can't wait to see the new benefits that HubSpot brings for their business.
Want to know more about how HubSpot custom integrations can enable your business too? Get in touch with us at business [at] niswey [dot] com.