How can you enable your sales teams to perform better? And utilize their time effectively in closing deals for your business? By embracing tools that can automate any repetitive and time-consuming work. And our latest Zoho Books CRM integration with HubSpot solution aims to do just that.
The Challenge
The Kenko team uses HubSpot Marketing and Sales Hubs to manage all marketing activities, contacts, and deals, and Zoho Books for their invoicing.
With separate tools for managing deal/customer information and invoicing, the team faced the following challenges:
Copying and pasting all deal information from HubSpot to Zoho Books, when creating an invoice, was slow, and error-prone work
Creating invoices for multiple customers, on a subscription-based billing cycle required long hours of manual work
With repetitive and manual invoicing processes, sales and accounting teams had low bandwidth for other, more value-added tasks
The Solution: Zoho Books CRM Integration with HubSpot
In order to address these challenges, Niswey proposed a custom Zoho Books integration with HubSpot.
With this Zoho Books Invoices integration, Kenko achieved::
Unified customer data: Automatic HubSpot and Zoho Books sync ensured that both platforms have correct, up-to-date customer data, based on edits/updates in either platform.
Reduced time and effort for invoicing: The Kenko sales team can now:
Initiate the creation of a payment invoice
Pre-populate relevant deal and customer data during invoice creation
Generate the invoice and payment link in Zoho Books
Send the generated invoice and payment link to customers (Zoho Books functionality).
Access the latest invoice in a deal property in HubSpot.
All of the above can be done right from within HubSpot, without having to ever switch to Zoho Books for anything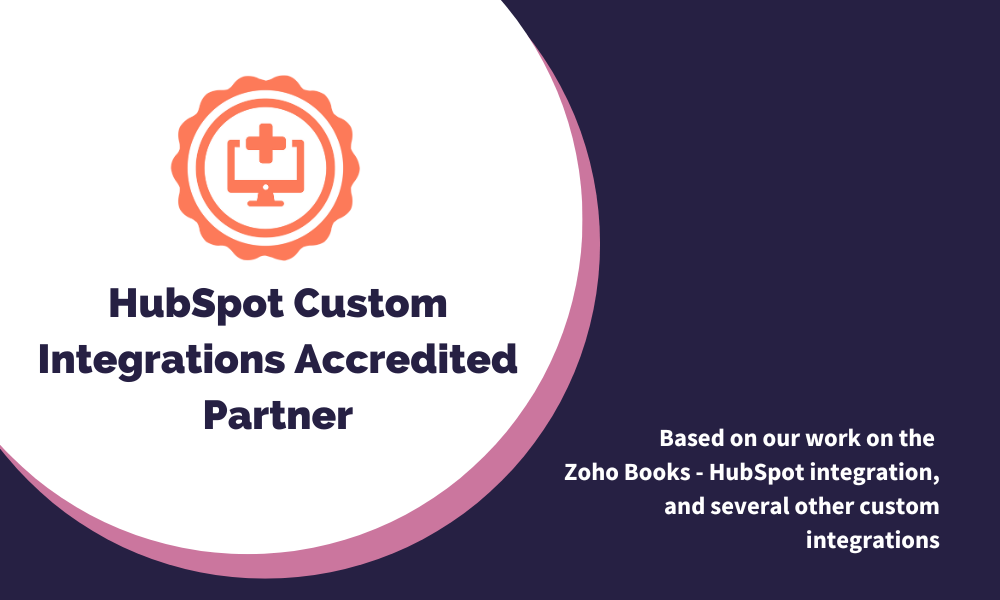 How it works
For the sales team, here is how it works:
Open any Deal timeline in HubSpot, for which the invoice is required


On the left panel, check for the Zoho Books Invoices integration CRM card. This card contains the form to create Zoho Books invoices.




When the salesperson opens the CRM card, the form will be prepopulated with the values from the properties of deals and associated contacts.




Once the form is submitted, Zoho Books will generate the invoice with a payment link and send it to the contact.


This extension will also create a new contact in Zoho Books if there is no contact with the same email address.


Requirements for the Zoho Books CRM Integration
You need to have a Zoho Books account with developer access.
You need to have a HubSpot account for your business, on any plan.
Business Benefits
Unified customer data: All your deals data on HubSpot CRM automatically gets updated on Zoho Books via the form on the CRM card. This eliminates the need to jump to a different platform, add the customer data again, and create the invoice manually.


Auto sync Zoho Books and HubSpot: With the integration, both your platforms sync in real-time. Using the CRM card automatically updates the customer data on Zoho Books. And at the same time, the invoice link that gets created on Zoho Books is also updated back on HubSpot.


Saves manual efforts of the sales team: With this integration, sales teams no longer need to switch between Zoho Books and HubSpot to create and share an invoice. They can automatically initiate the creation of a payment invoice, and the same gets sent to customers right from HubSpot.
Is this the Zoho Books-HubSpot integration you need?
There are other solutions in the HubSpot marketplace that offer a Zoho Books HubSpot integration as well. But they are more applicable if your only requirement is to sync data between Zoho Books and HubSpot without manual data entry or messy, time-consuming imports.
Our integration solution goes a step further by ensuring not only the two-way sync of data between Zoho Books and HubSpot CRM, but also enabling the auto-generation of payment invoices for your sales teams.
Here's a quick comparison:
| | | | |
| --- | --- | --- | --- |
| | Zoho Books Connector by HubSpot | Zoho Invoice Connector by HubSpot | Zoho Books Integration by Niswey |
| Two-way data sync between Zoho Books and HubSpot | Yes | Yes | Yes |
| Default and custom field mappings | Yes | Yes | Yes |
| Generate Zoho Books invoice from within HubSpot | No | No | Yes |
| Post invoice clearance, payment status updated on HubSpot | No | No | Yes |
| Create new customers in Zoho Books, from within HubSpot | No | No | Yes |
Want to know more about how our HubSpot Zoho Books integration works, or talk about custom integration solutions for your business? Book a call with our solutions expert, and let's get started!