I vaguely remember my first meeting with Pooja, sometime in 2019, when she had first joined us as for a digital marketing internship. She joined us as a referral of one of our ex-employees who told her that Niswey was a great place to learn about digital marketing. She came from a 'Business Development' background. But after a not-so-great experience working in sales at her family-run business, she decided to try her hand at marketing.
Little did we know at that time that her coming to Niswey would be a game-changer for us, as much as a journey of self discovery for her. From handling digital marketing for our clients, to becoming our HubSpot Growth Manager who excels at problem-solving and cracks deals left, right and center, her journey at Niswey has been nothing short of inspiring. And this year at the Niswey offsite, she was awarded the Niswey Gamechanger Award.
It was a pleasure for me to take that opportunity to hear the story from her first hand. We have delved into the process of self discovery for her at Niswey, where she gets her inner drive from, how she manifests her winnings, and why the pandemic turned out to be a boon for her in disguise.
---
When I first joined Niswey, it was with an intention to learn. I had been working at another digital marketing agency for a few months, but with nothing much to learn there, it felt like a waste of time. That's when I got to hear about Niswey, and thought to give it a try. Two interviews later, I was hired, and was going through my onboarding process when I got to hear that if there was one person who could teach me the most about digital marketing, it was Boris. But also that it was going to be a hell lot of work to impress him or get appreciation from him. And so I set a goal for myself to do just that. :D
I have always been an overachiever at my school, college, even work. So when I started working in Business Development at UrbanClap, it always felt like something was amiss. I wasn't getting much job satisfaction. There wasn't a lot to grow in my role there. Even my mentor would tell me that I had more potential than what I was doing there. And I would wonder what he sees in me that makes him say that. But I decided to switch and instead work in my family business for a while.
What followed was a great deal of learnings, and helping out my traditional family business and getting more well-versed with the online world as I helped them with digital presence. However, it didn't seem like something I would want to do for long. And I already had plans to get married and move to Canada with my then fiancee (now husband) in 2020. So instead, I started focusing on what would make me self-reliant and land me a good job in Canada. And digital marketing seemed to be a good bet.
Journey of Self Discovery: Digital Marketing to HubSpot Growth Specialist
I started looking for internships in digital marketing and landed at Niswey. The plan was to learn for a few months, and then move out. And with that in mind, I set out to learn about SEO, email marketing, ads and HubSpot. I mostly worked with Boris, aiding him with our White Labeled Marketing Services (WLMS) work. And among other things, attended client meetings, helped build an email strategy and got a few guest blogs published. I was able to move things at Niswey. And my knowledge grew. Overtime, well, I did receive good feedback from Boris. :P
But things went downhill with the pandemic. We couldn't leave for Canada, and as a result I continued to work from home for Niswey during this time. But with the Covid situation affecting our clientele, at that time we had a dearth of WLMS clients. I had no other work to do. And was in fear that Niswey too would follow the trend and lay off the extra members it could no longer afford.
But on one of our newly started Monday calls, Abhinav, COO Niswey, addressed the entire team emphasizing that we would get through this together. Since services weren't much in demand, Niswey was going to focus its attention on selling our product HubSpot+WhatsApp Integration. There were open positions for Sales, CSM and other roles. And we were asked to pitch in for whatever could suit our interest and skills. Given my not-so-good experience with sales, I thought to give CSM a try. However, Abhinav asked me to take up sales given I had knowledge and experience in the area, and could get us to speed.
And now as I look back, I can only be grateful for that moment in my life. I didn't realize it then, but that was my turning point. That I was on the way to find my passion and uncover my strengths and potential.
The goal was clear for us in sales. We had to hit targets. Targets that would improve our revenue and make Niswey much less dependent on its services clients. So I picked up my pace. We would shadow Abhinav on calls initially, learning more about the product, customers, and how to tackle questions from prospects. In some time, there was a demo test, which I passed, so I started taking calls on my own.
2020 turned out to be not as bad of a year for Niswey as it would have been for several other agencies trying to stay afloat in the pandemic. We managed to sustain throughout, even achieve some of our sales goals. And to me, the pandemic seemed to come like a blessing in disguise. I realized I was actually good at sales. Aur main zabardasti usko chor rahi thi! (and I was forcing myself to stay out of sales!) But with SaaS sales, I finally felt satisfied with what I was doing. Winning deals!
I moved completely to sales after the pandemic. Our product was flourishing and we were getting a huge number of leads. Not only this, I started working towards selling HubSpot too. Problem-solving and cracking complex deals became my forte. And I was even called the 'Demo Queen' at Niswey. :P And that meant, I didn't want to stop anymore.
In fact in 2021, it became much more organized for me with a coach coming in to help us grow better. I hit my sales targets in Quarter 1, following which my goals for the next quarter tripled.
Setting Goals and Achieving them!
I was doing well, great actually at work. But triple the sales targets from Quarter 1? That gave me a sunstroke. It wasn't as if anyone in the team was pushing me to achieve it. I knew it was okay to not hit those targets, but at the same time, the overachiever drive in me wondered what would happen if I did.
In my two years at Niswey, I had been fortunate enough to discover the right role for myself. Those precious months I spent in digital marketing helped me understand the delivery side of things much better. I knew the efforts put in by my team, the knowledge they hold, and the marketing+tech capabilities of team Niswey. So when I was out there, selling our products/services, I knew in my mind that we are more than capable of achieving our prospects' expectations. And that we had all that it takes to even be recognized as a HubSpot Elite Partner! All that I needed to do was push a little harder.
So I did. I put all my energy to work. It helped that I had the right support from my team at Niswey. I would ask help from whoever I needed to, build out proposals, give demos, handle clients and some of the delivery, and close deals one after the other. I take pride in having cracked some really complex deals, and that only increased my belief and drive to lead us to become one of the top 42 partners of HubSpot in the world.
By the end of the next quarter, I had two goals for myself:
Enable Niswey to become a HubSpot Elite Partner
Win the upcoming title of the Niswey Table Tennis Championship
I had attended one of those sessions where Suma, CEO Niswey, had talked about 'Visualization' - the art of manifesting your goals and viewing them as achieved. The concept is as simple as "Kisi cheez ko shiddat se chaho to saari kaaynaat usko milane ki shazish karti hai". And I started practising it for my two goals with every bit of shiddat (passion). I started believing that the universe was joining forces towards making those happen.
And happen it did. I won the Niswey Table Tennis Championship by a very very thin sliver of a margin from Abhinav.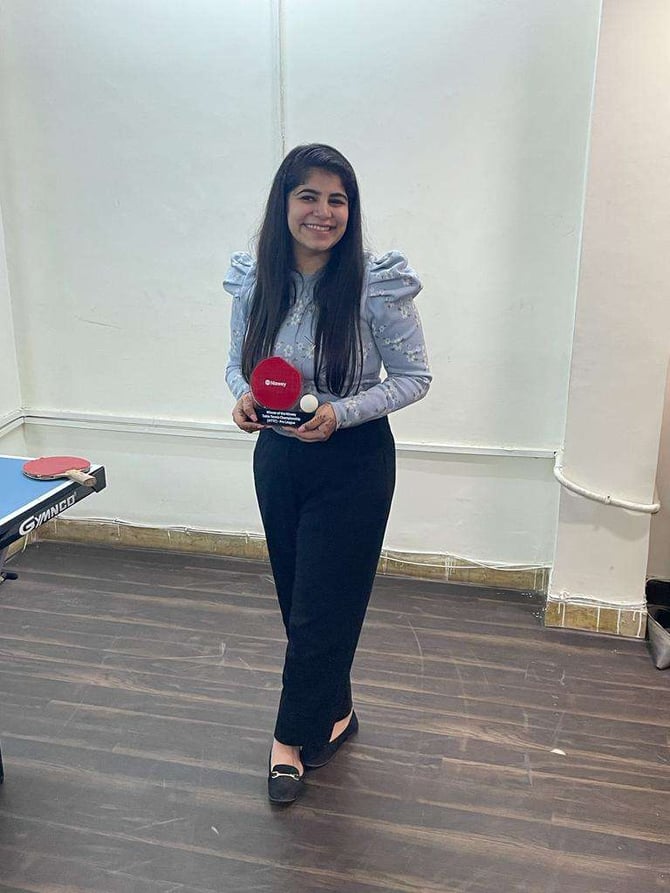 That increased my belief in the universe. And made my drive to make us Elite even stronger. For months, that was all I thought about. In every task I did, I would evaluate whether or not it was helping me achieve my goal. I would visualize us winning the Elite partner title, work towards it on the day and worry why it wasn't happening. We were at a mere touching distance from it, and yet so far. At one point, it even started affecting my sleep cycles.
I remember that's when Abhinav asked me to slow down. Take my mind off on something else instead of exerting myself to achieve the goal. If I kept on doing all that I needed to do, I had to trust the universe to take care of the rest.
It was in February 2022 when Niswey became the first-ever HubSpot Elite Partner in Asia! And that win is always going to be etched in my memory. I even made a few reels for Niswey after that. :P
By March 31st, a few days after I left for Canada, I had also overachieved my sales targets for the year. :D
Onwards from Niswey
Around the same time, my visa for Canada also got finally approved. This meant I would be leaving soon to be with my husband who had already left for Canada a few months back. It was a plan we had made back in 2020 that was happening now, no thanks to Covid. But I am grateful for the delay, it turned out to be a boon for me, helping me discover what I was truly capable of being.
It was a heartache to leave Niswey, especially with all the bond and memories I have made here. The learnings I have had about myself, and life in general. The trust I have now that good people exist at work. And picking up skills like empathy, customer oneness and deep listening - all of which are very important for my role. Some stories that I have from my demo calls. It is here that I discovered how I love talking to people from different countries, regions, and observing how their culture is different from ours. Getting to understand their expectations and trying to deliver accordingly is a challenge I have come to love. It drives me, everyday. And as I leave Niswey, I take these, and several other memories with my team from here.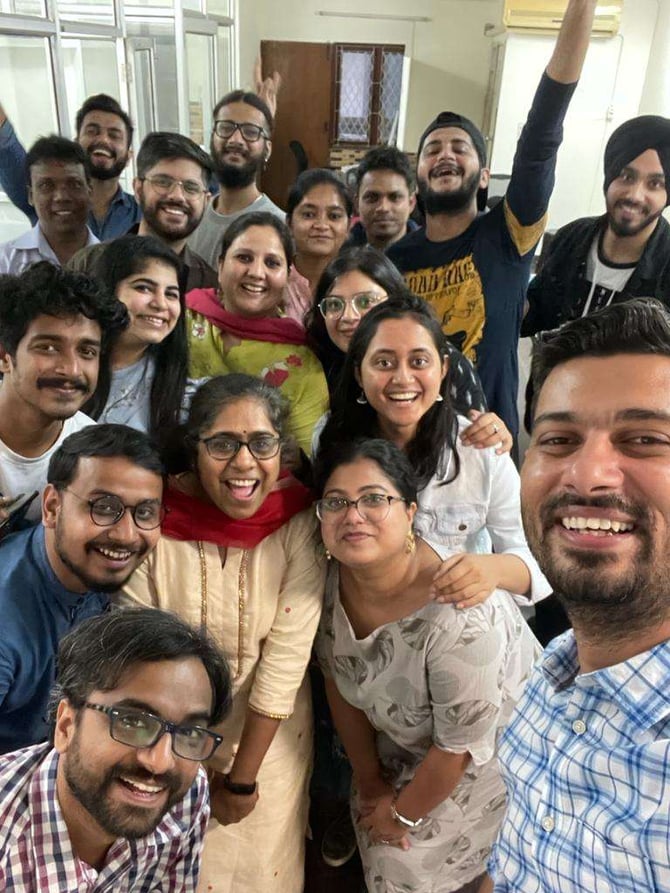 Being at Niswey has helped me find my passion in sales and aid me in my self-discovery journey. It has made me more aware of who I am, and what I want to be. I want to be a financially independent person with a say in decision-making, and someone who excels at her job. Having seen my mother less involved in decisions of the house has pushed me to have that backing for myself. To be capable enough to be valued in a male-dominated society like ours. That's where my drive comes from, and that's how I intend to be. So I am going to keep learning, keep progressing, however it takes, to excel at my job, wherever I am, today, or tomorrow.
My path is not certain, nor will it ever be. But I go with the belief that it will be a good experience. All I need to do is dream and work towards it, the universe will take care of the rest.
---
Enjoyed reading Pooja's story? Check out more stories of our culture and people at Life at Niswey.
Looking to work with a team full of awesome people? And in a culture that focuses on your growth as much as the company and clients? Send us your CVs to careers [at] niswey [dot] com or apply via the current openings on our website.