Business leaders are busy people. They have a lot on their plate at any given time. If they have hired an agency to handle digital marketing or inbound marketing, they expect it to be, well…handled! And this hands-off approach to marketing management would have been perfectly alright if you want your marketing budget to bring in mediocre results. But if you want marketing to take your business to the next level, you need to get in the game.
Marketing is all about standing out. And what truly makes you stand out is your 'story'.
Taking this 'story' out to your customers is the job of marketers today. People are no longer satisfied with just knowing what your company does. What customers want to know is why you do it, and how you do it better than others. And as someone who shapes the company, you are the best person to answer those questions.
Hence, you have to really get involved with that marketing agency you hired. Their job is to craft the story for your customers and take it to them. But first, you have to give them the 'story'.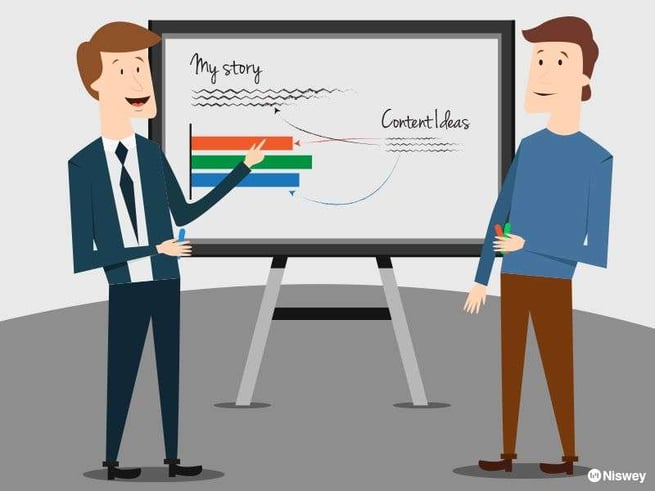 As a digital marketing agency, if we are to make you stand out from your competitors, your approach to marketing management has to go beyond just giving us the 'brief'. Our first step with any client is to understand their business: What they do, their industry, what sets them apart, where they are now, and where they want to be in a few years. Your involvement at this stage is crucial because, without these answers, we wouldn't know where to start. Without this, you will have a marketing strategy that's running parallel to your business strategy, but never converging, never yielding the results you want.
Now, you might think, "Why to hire a marketing agency if I have to do all the work?" or "Why can't they research the industry and start producing content?"
Yes, we can definitely do the research and get to writing, chop-chop. But would that content reflect your brand story? It would be generic, something that can be written for any other company in your industry. But the most important information about your company, what makes it tick, cannot be researched from the outside. And if you are not conveying that to your customers, they will have no compelling reason to choose you over your competitors.
So, here's how you can help your digital marketing team get you phenomenal results:
Sit down with us and give us the stories.

We dig deep into your work to find out moments where you went above and beyond for your customers.

Tell us the kind of customers you want to reach and

how your way of working is different from your competitors'.

You give us all this, and then watch us create content that's unique to you. Content that showcases your USP and attracts you the right kind of leads.
One of our clients in the tech space believes in getting involved with marketing. The business owner is extremely passionate about what the company does. And every time we meet him, we come away with the same sort of energy and urgency to make this company grow. Why? Because he shares their unique stories.
He talks about all their new projects and the challenges that their team resolved. New content ideas go off like fireworks in our heads. He'll talk about the prospective client meetings he attended, and why he thinks they will or won't convert. Target personas and their problems get clearer in our heads. As a result of his hands-on approach to marketing management, we can deliver highly focused campaigns, and create content that helps their sales team close faster. It's because of inputs like these that we were able to increase their leads by 233%.
Businesses evolve fast, and marketing needs to keep pace with that:
Your business is changing directions and you are positioning yourself differently. We need to know this, so we can tailor marketing strategies accordingly.

You are rolling off new products and services, and targeting new markets. But it won't reflect in your marketing campaign unless your marketing team knows about it, almost as soon as it has been decided upon.
In short, the most productive approach to marketing management is to always keep your marketing team in the loop.

Marketing is not just another department. It is what determines how you reach out to your customers, how they perceive you, and eventually what customers you attract. In the end, it's all about telling your brand story. And that marketing agency you hired can do an awesome job of it, only if you are willing to share that story.
So, are you ready to 'get in the game'?
Yes? Let's talk