I first met Basil, when he joined Niswey as a design intern in 2019. A design intern in our Delhi office, all the way from Ernakulam in Kerala—who does that? But he had the travel bug and this internship was a chance to live his adventures!
He is not your typical travel blogger with a phone in one hand, and thousands of followers. He travels to experience the myriad places and people, and his pictures are more for the memories.
This year, what started as quick break from the sweltering summer of Kerala turned into a magical 3 month long adventure. And that too while continuing to work on the weekdays. We were tuned into his Instagram stories, watching him live the dream. And once he was back, I couldn't wait to ask him how he did it.
---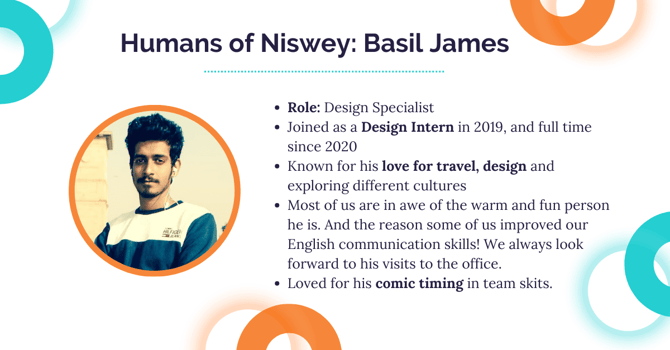 So, 3 months of workcation and now you are back home. How are you feeling?
Oh, I feel amazing. It was three months of travel, back to back. I didn't have the time to process or take a pause to reflect then. And now that I am home, I keep going back to those moments. Keep reliving how it was, those treks, beautiful places... I am already planning my next trip.
How did you discover travelling? Where was the first place you travelled to?
I think it was in 2018. I used to stay in Kochi with a friend of mine. He is older than me and owns a Bullet. One day he took me across two districts in Kerala on his bike. It wasn't a lot of distance, but the experience was so different. There were rice fields, we went near a dam, and there was so much peace and quiet. It was a very beautiful day.
Since then I have had the desire to travel. I started visiting nearby places, mostly with friends or family. I would make excuses to my parents about giving an exam or something, and take off. I would travel, and then come back home and share about where I went.
Most people I know would go as far as Bangalore to stay and work. But I wanted to go farther. Explore more than South India. That was the reason I applied for a design internship in Delhi.
While doing the internship at Niswey, I covered five states! I would travel every weekend, to different places. I went to Amritsar, Shimla, Manali, Agra, Rishikesh, Jaisalmer, Banaras…
I saw snow for the very first time in Manali. But it was so cold that I had to come back to Delhi the very next day because I didn't take any warm clothes with me. I had very little idea back then, and I would just take things as they happened.
Even today, I don't plan much. I do some basic research, and set a limit on my finances, but mostly, I like to decide the next steps while travelling. Once I was on the train to Kolkata, but got off in between to visit Odisha because I felt like it. I trust my instincts when I travel, and explore the beautiful universe as it calls me.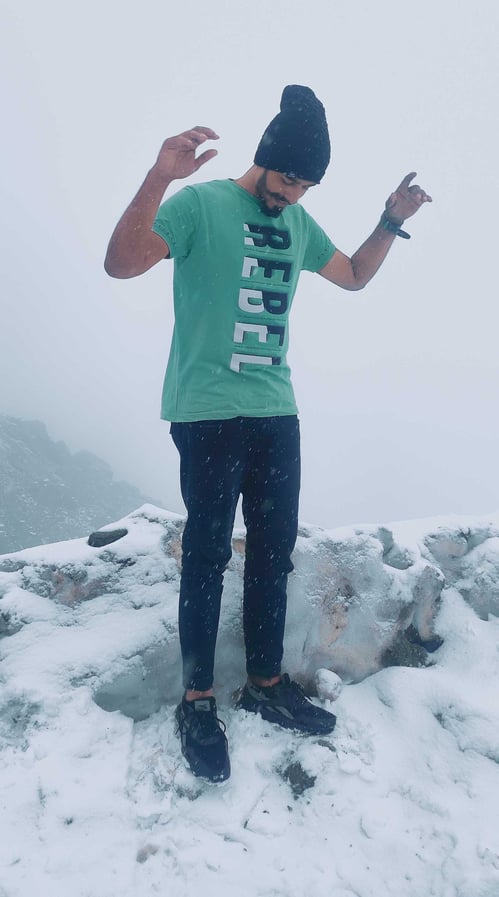 It must have been hard during the pandemic, when you couldn't go anywhere?
The Covid lockdows happened just a few months after I had returned to Kerala post my internship at Niswey. It was lonely and monotonous. At one point, everyone in my family had Covid, except me. I was the only one going to the hospital and trying to get medicines and arranging food, etc. It was taking a toll on me to deal with such fear and loss.
One good thing was that I had finished my masters, and joined Niswey full time. I could now contribute financially to my household. Since I was not in a good place mentally during that time, it helped to have a counsellor as well, via Niswey's mental wellness partner, The Mood Space.
How did you plan your recent trip?
I had been planning to go to the North-east for some time. I wanted to visit the mountains and valleys, go trekking, eat local food and explore local cultures. So I did basic research on how to reach, or things to keep in mind for a new place. I also calculated how much money I could afford to spend on the trip - my daily and weekend allowances. My plan was to travel till that limit was exhausted, and cover some of the north-eastern states as well as Nepal in that budget.
With this in mind, I took off in February and just followed my heart. I started with West Bengal, up north to Sikkim, and then travelled east to Meghalaya, Nagaland, Manipur, and Assam. Went out of the country for the first time by crossing over to Nepal, and then back to Uttar Pradesh and then Himachal Pradesh. I could sustain for three months on my own in the budget I had planned. It is all doable, you know.
That sounds like a wonderful way to plan. But didn't you face any challenges?
Lots of them. Once I was in Pokhara, at 2 AM in the morning, with no means to reach my hostel. There was just one taxi nearby which was charging a lot, so I kept waiting all alone. But then I met someone who was kind enough to drop me to my hostel. He became a friend and later I shifted to another hostel where he worked.
On another occasion, I wanted to convert some of my Indian currency to Nepalese rupee for my expenses in Nepal. But I found out that neither of my cards worked there. And so I was left with no option but to get some money wired. But that limited my estimated budget for the trip. I was worried I would have to leave my 10-day trek to Annapurna Base Camp in between for lack of funds. But things worked out for me as I met two Nepali friends who helped me complete the trek in 6 days!
I believe in the ways of the universe. So even when faced with a challenge, I trust that something good will come out of it. If one thing doesn't work out, something else will. So I keep going and often, I end up meeting amazing people who help me out, and I get to make so many friends.
So how do you manage to travel while working remotely? Have you considered earning through your travels?
Not really. I am quite happy working as a designer at Niswey. It is great because I have the freedom to pursue both my passions - travel and design. And the flexibility to manage my work with travel. I take leaves for long treks etc. But otherwise, I work during the day, and explore places outside my work hours.
For example, in Meghalaya, Nagaland, and Manipur, the sun rises at 4 AM and that's when the entire city is awake. So I used to go out and explore the markets till 10 AM. Then come back to my hostel and work.
Sometimes there were connectivity challenges, but upfront communication about those issues and an understanding team ensured that I was able to make it work. I often ask my teammates about any dependencies/deadlines in advance and make sure to deliver by them. In some rare cases, when there is an emergency and I am unavailable, we also have another design person to handle them.
In fact, I have observed that working while travelling has improved my efficiency. Everyday I have an agenda to explore, and that motivates me to stay focused and complete my work in time. I am happier working during travels than at home.
That's great! So final question, where are you off to next?
There are several places in my mind. A lot of countries are waiting. One of my international friends is also calling me to Vietnam. And there's the Everest camp trek I want to do. There's so much to explore and I want to do it while I still can. Who knows what the future holds? So all I am thinking about right now, from the comfort of my home, is where to travel next and I look forward to wherever that place is!
---
As I write this, Basil is already at his next destination - this time it's Pondicherry!
Enjoyed reading Basil's story? Check out more stories of our culture and people at Life at Niswey.
Looking to work with a team full of awesome people? And in a culture that focuses on your growth as much as the company and clients? Send us your CVs to careers [at] niswey [dot] com or apply via the current openings on our website.