It's no secret that video is a powerful force that's been growing in usage year over year. 83% of marketers say video gives them a good ROI (up from 78% in 2018). What has changed is how important video has become on every platform and channel across your entire business.
Video isn't just for businesses with large budgets anymore. Years ago, video was almost exclusively produced by creative departments—not marketing, sales, or service teams. Equipment costs were high and measuring video success was limited.
Today, all that has changed. Thanks to the rise of technology, video is used more widely as a business strategy across marketing, sales, and service teams.
Find out more on why do brands need video marketing.
When done correctly, a video marketing strategy is an effective way to attract, engage, and delight your audience in a human and helpful way. In fact, more than 50% of consumers want to see videos from brands—more than any other type of content.
But creating any old video isn't enough. You need to create memorable videos that engage your audience.
Why You Need to Create Engaging Videos
Video content creates trust.
If you build trust with your audience, they'll be more willing to come to you when they're ready to make a purchasing decision. However, to build that trust and close customers, your video content needs to have a purpose and capture the interest of your viewer. Mediocre or low-quality videos just won't cut it. In fact, 62% of consumers are more likely to have a negative perception of a brand that published a low-quality video.
Engaging videos that are optimized correctly can improve your search engine optimization.
First, adding a video to your website can increase the chance of a front-page Google result by 53 times. This is especially helpful if you embed a video near the top of your educational blog posts. Why? If people take the time to watch your video, it will reduce bounce rate. Your website's bounce rate is the percentage of people who land on one of your website pages, then leave immediately without clicking on anything. Having a low bounce rate is a strong indicator to Google that people find value in your content. And if Google thinks your content provides value, it can lead to first-page rankings for the topics you want to show up for.
For example, this web page ranks #1 on Google for a list of high-volume terms related to "truck camper."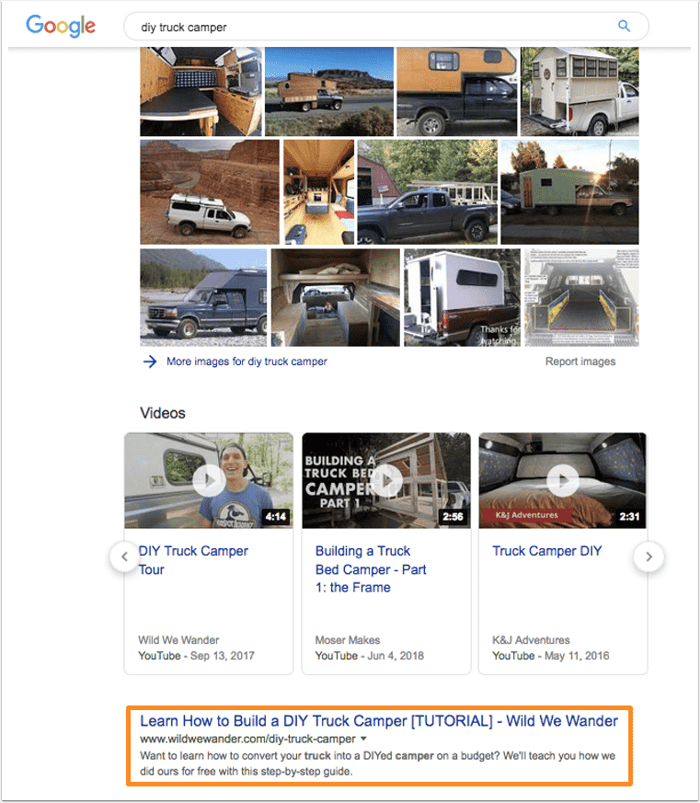 When you click through to the page, you'll notice there's a YouTube video embedded at the top that is 4 minutes and 13 seconds long.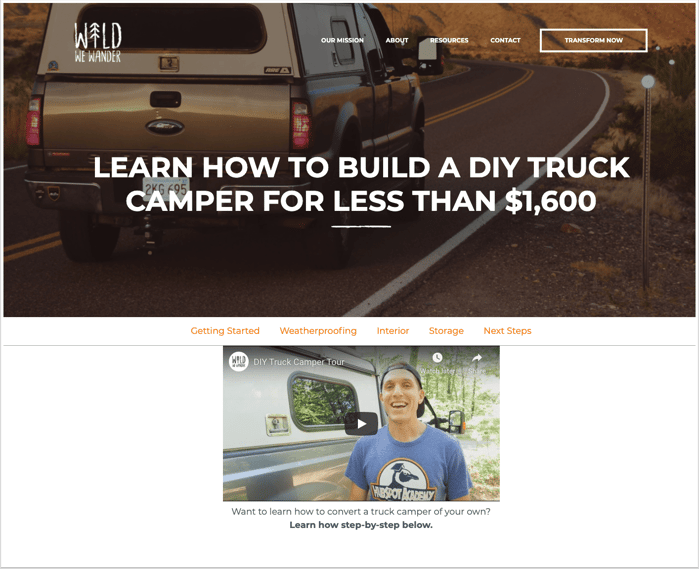 In most cases, the majority of people who visit your site would rather watch a video than read text to learn. That's exactly why there is a video at the top of this page to engage the visitor with video content first. In case you're curious, the average time a visitor spends on this page is five minutes.
Which brings me to my second point: Not only is YouTube a popular search engine, but YouTube videos rank near the top of a search engine results page, creating another opportunity to claim real estate on a search engine results page.
Google offers more than just listings to website content — there are other options like image and video search. The best part about these other search options is when Google does offer them, they're generally offered near the top of the search engine results page, even before the coveted #1 website listing.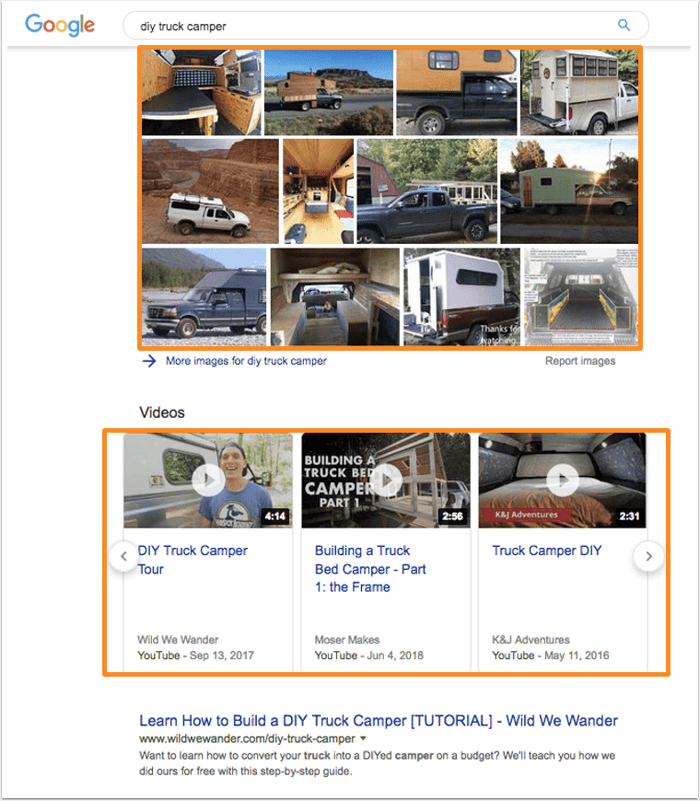 For example, let's go back to the search engine results page for the search query "DIY truck camper." Notice how the video that's featured at the top of my educational website page shows up in the video search results, which ranks above the #1 website listing. Anyone who clicks through to the YouTube video will see there's a link above the fold in the video's description, which connects them to the most relevant page on my website. This way, if the viewer wants more, I'm offering them that helpful next step.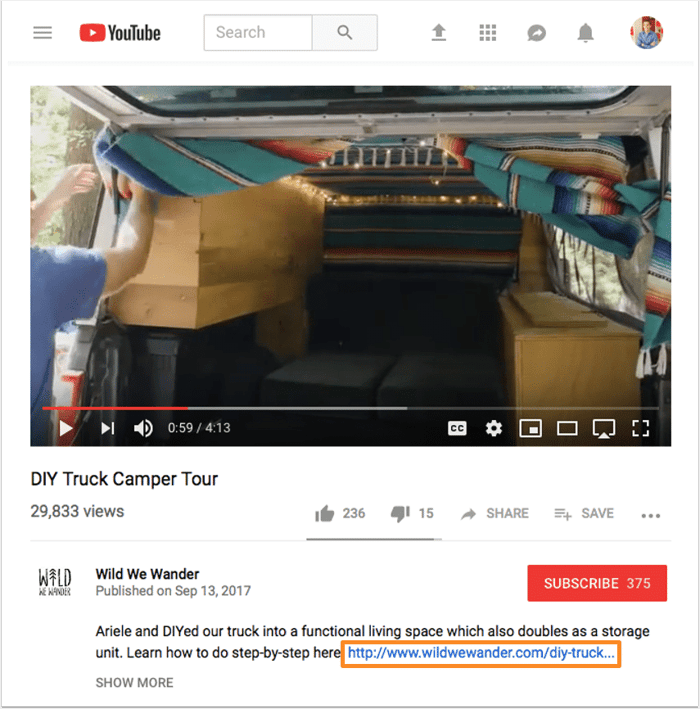 While we're on the topic of YouTube, it's important to note that it's the second-largest search engine behind Google. If you want to learn more about how to create a YouTube strategy, then check out HubSpot Academy's free YouTube Course.
And lastly, video content is constantly being published online. In the time that you read this post, over 216 hours of video content will have been uploaded to YouTube. Let's be honest. Do you really think the world needs another piece of mediocre content? Make it a point to focus on the quality and purpose of each video you create. This way, you'll stand out from your competitors and gain the trust of your audience. Remember, quality always outweighs quantity when it comes to creating content, especially video content.
Make it a point to focus on the quality and purpose of each video you create.
Using Video throughout the Inbound Marketing Methodology
Businesses often jump too quickly at the opportunity to create their first video. They think they'll be left in the dust if they don't, which could be true. But instead of investing in video in all aspects of their business, many companies spend thousands of dollars on one highly produced brand video for their homepage. After that, video production ceases.
On the other hand, plenty of businesses churn out videos for social media. But since most are simply replicating fads without establishing a true strategy or analyzing past videos' likes and shares, they hardly consider their audience's challenges or habits (not exactly the best way to build trust).
Considering the time, money, and resources involved, video marketing can't be an impulsive guessing game. Instead, you need to create a video marketing strategy that applies to every stage of the inbound methodology. Your goal with video should be to attract your ideal audience, engage them with helpful, useful video content, and delight them to the point where they become promoters of your brand by sharing your content with their network.
Let's cover the types of videos you can create for each stage of the inbound methodology. If you want to learn more about the inbound methodology, check out this article.
Using video in the "attract" stage
Let's start with the attract stage, which is generally a function of marketing.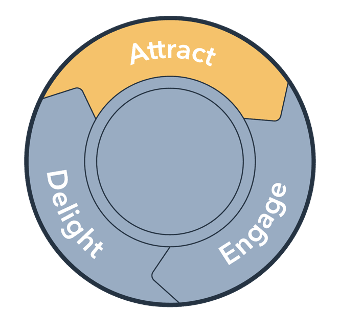 The first step of the inbound methodology is to attract or turn strangers into visitors. Consumers at this stage are identifying their challenges and deciding whether or not they should seek out a solution. Therefore, the videos you create should empathize with their problems. Use your expertise to create video content that creates a meaningful and memorable experience.
Ultimately, the goal of this kind of video is to expand reach and build trust and credibility with your audience.
Examples of videos in the attract stage include:
Short social videos that show off your brand's personality;

Thought leadership videos that establish you as a source of industry news and insight;

Brand films that share your values and mission;

And educational how-to videos that provide relevant tips for solving your audience's pain points.
For any "attract" video, avoid speaking too much about your product. Instead, focus on your brand values and personality. Remember, this video may be the first time someone comes in contact with your brand so make a positive first impression. If you do, then it's likely the viewer will go looking for more. Finally, because these videos can live on a variety of channels, keep in mind the strategies of each platform, especially when it comes to social media.
To learn how to use video in your social media channels, check out HubSpot Academy's free Social Media Certification Course.
Using video in the "engage" stage
Now that you've attracted video viewers and website visitors, the next step is to build lasting relationships with them by providing insights and solutions that align with their challenges and goals. This brings us to the engage stage, which is generally a function of marketing and sales.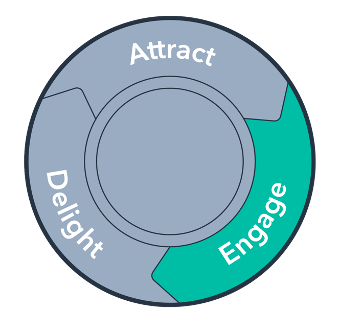 Your intention is to help them through their buyer's journey to making a well-informed, confident purchasing decision. In simpler terms, "engage" videos are meant to convert your visitors into leads and ultimately close them as customers.
"Engage" videos that are meant to convert your website visitors into leads could include:
A webinar filled with tactical advice;

Product demos sent via email;

Landing page promotional videos;

Case studies;

And in-depth educational how-to videos.
For example, while an "attract" video might provide a quick tip for writing blog post titles, an "engage" video could be a more thorough breakdown of how to create a long-term blogging strategy.
When your goal is to close leads into customers with "engage" videos, help your audience visualize themselves using your product or service, and seeing success. Yet, as important as this stage is, "close" videos are often the most overlooked by marketers and salespeople. But there's a reason four times as many customers would rather watch a video about a product than read about it. Videos are able to display functionality and leverage emotions in ways a product description never could.
"Engage" videos that are meant to close your leads as customers could include:
Testimonials of customers with relatable stories;

In-depth product demos;

Culture videos that sell viewers on your quality of service;

Or even personalized videos that explain exactly how your product or service could help their business. This is especially an effective tool for your salespeople who are working with people who aren't the decision-makers. Imagine the impact you can have on your close rate if you recorded a personalized sales pitch that your point of contact can share with decision-makers. It's the next best thing to actually being in the room with them.
So, let's say your "engage" video was effective, and a purchase was made. Great! But you're not done yet. There is still much that video can do to leverage the post-conversion stage of the inbound methodology.
Using video in the "delight" stage
This brings us to the final stage, delight, which is generally a function of your services, success, or support team.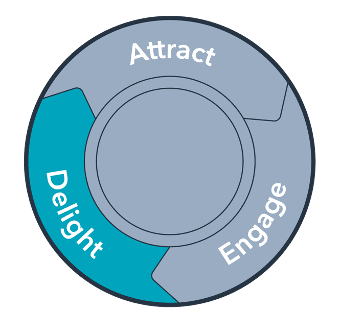 During the delight stage, your goal is to continue providing remarkable content to users that make their interaction with your product or service as incredible as possible. You want them to tell their network about their experience or up-sell on another one of your products or services. Therefore, the goal of this type of video is to encourage your customers to embrace your brand and become brand evangelists.
Examples of videos in the delight stage include:
A thank you video in an email welcoming them into the community;

An onboarding video to get them set up for success with their new purchase;

Or, and this is a much heftier strategic initiative, building out a library of educational product training videos to cater to consumers who prefer self-service or want to expand their expertise.

For example, SEO company Moz offers several on-demand courses that teach you SEO and show you how to use their tools to become an SEO expert. Paint a picture of what success looks like for your audience, then help them transform by teaching them how to do it. Empowering your customers to become successful users of your products or services creates well-informed, educated evangelists of your brand.

And that's it, an overview of how to successfully implement video at every stage of the inbound methodology. Before we finish, here's a pro tip to keep in mind: Get creative and test various video types to see what works best for you and your business.
For example, maybe your audience prefers longer videos in the attract stage. In this case, consider creating longer educational videos and embedding them at the top of your website pages. The key here is to experiment and document your findings. This way, as you grow, you can focus on growing better and improving the experience, which your audience will appreciate.
If you're looking for a place to start, consider creating at least two videos for the attract, engage, and delight stages. Don't forget to include calls-to-action to help lead your audience through their buyer's journey and into the role of promoter of your brand. Over time, you can improve based on conversion rates and the content gaps you discover.
This blog is a guest post by Justin Champion from HubSpot Academy.
Author Bio