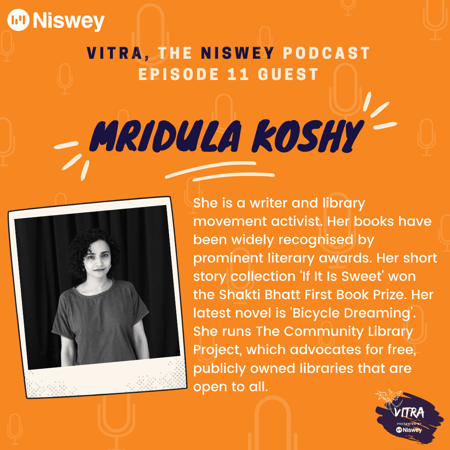 Have you ever had your nose in a book, completely enamoured by the world bubbling inside the pages? Or did you always want to read but never found the right time to get into it?
Or were you one of the many people who always wondered how books and reading brought happiness to the people around you?
In this episode, I sit down with Mridula Koshy, a writer and library movement activist to truly understand the 'power of community libraries' in a world where access to reading in itself is a privilege. We talk about our introduction to books and our experience as voracious readers who never seemed to have enough books around us to read! Mridula discusses her experience running a community library in Delhi, and how a small jewel of a library with over thousand books has impacted the lives of the children living around it.
We talk about democratising access to books, and why it is so important to truly see and understand how books can elevate thinking and development. We end our conversation by talking about the different ways in which we as individuals can contribute to the library movement and make sure that 'reading' and 'thinking with books' can become an empowering force for everyone.
Interested in knowing more about community libraries and how you can play an active role in building a community of readers? Then go ahead and give this episode a listen!
About Guest:
Mridula Koshy is a writer and library movement activist. Her short story collection If It Is Sweet won the Shakti Bhatt First Book Prize and was shortlisted for the Vodafone Crossword Award. Her novel Not Only The Things That Have Happened was shortlisted for the Crossword Book Award. Her latest novel is Bicycle Dreaming. She runs The Community Library Project, which advocates for free, publicly owned libraries that are open to all.
To help grow the library movement:
Photo Credit: Tejinder Singh
Time Stamps:
1:32 – Mridula's experience with books
4:10 – What does reading mean for us personally
5:39 – Reading as a way of thinking
11:22 – How did access to books become so limited and unequal
14:32 – What happens when access to books and reading is made easily available to everyone
20:00 – The Community Library Project in Delhi
23:47 – Engagement programs in the community library
28:58 – Need for libraries to be 'welcoming'
33:43 – How to make libraries welcoming and facilitate a culture of everybody
39:37 – Classism and judgments based on the type of books being read
42:37 – How to become a part of the library movement
For further episodes of Vitra, pick from the complete list of episodes released!

Podcast Hosting Platform: Anchor
Background Music: Positive Motivation by https://www.purple-planet.com