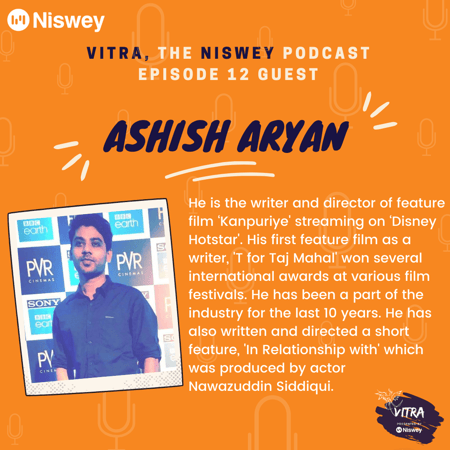 Did you ever have the thought of joining the film industry? Or do you dream of making it big in 'Bollywood'?
To one day see your own name displayed on the big screen? Or maybe, if not dreams of becoming a part of the movie business, have you ever just had a dream that you wanted to pursue with all your heart and soul?
Then this episode is for you!
From what it takes to be honest about who you are and what you want to do with your life, to actually having the courage to go ahead and do it! Vitra's 12th episode, 'Taking the Plunge' covers it all.
I sit down with Ashish Aryan, writer and director of feature film 'Kanpuriye' to discuss his journey in the Hindi film industry. We talk about the struggles he faced and what it took for him to actually tell his parents about his dream to make movies.
How he went from being a struggling writer looking for opportunities to becoming an award winning writer and director with his own voice and his very own movie, and why taking a leap of faith is something that has paid off for him in the last ten years. He also shares why he thinks it is important to be surrounded by dreamers, and how by simply taking a chance, we can change our lives and of those around us.
So if you have ever had a dream or just want to hear a story crazy enough that it deserves its very own movie, give this episode a listen!
About Guest
Ashish Aryan is the writer and director of feature film 'Kanpuriye' streaming on 'Disney Hotstar'. His first feature film as a writer, 'T for Taj Mahal' won several international awards at various film festivals. He has been a part of the industry for the last ten years, where he started his career by writing reality shows before switching to films in 2014. He has also written and directed a short feature, 'In Relationship with' which was produced by actor Nawazuddin Siddiqui.
Time Stamps:
2:32 – Beginning of Ashish's journey
5:51 – Society's negative perception of the film industry
8:24 – How did Ashish decide to take the plunge
14:23 – Ashish's first break
17:29 – Struggle period and turning point
26:00 – Fears and doubts faced when putting work infront of people
32:44 – The reason behind the story of Ashish's film- 'Kanpuriye'
37:16 – Ashish's ongoing and future projects
38:51 – Self-doubt
42:46 – How big and small decisions make a huge impact
47:18 – Why taking a chance is important
For further episodes of Vitra, pick from the complete list of episodes released!

Podcast Hosting Platform: Anchor
Background Music: Positive Motivation by https://www.purple-planet.com