Whenever someone said "company culture", it conjured images of suits and ties and tight formal smiles. But in an economy alive with start-ups, run by people whose mantra is constant innovation; "company culture" has got a whole new spin.
Joining a firm straight out of college, I was scared that I wasn't ready for the workplace.
I mean, saying "yes sir, no sir, three bags full sir" is not my cup of tea. But Niswey was a surprise! When you join Niswey, you become a Knowizard. And TBH, who doesn't like being a wizard??

Let me share a couple of culture codes that make #LifeatNiswey an interesting experience:
Incubation
There is no orientation. Your first day at Niswey is not going to be a boring series of lectures by people from different departments giving you the grub on how they function. There are no presentations glorifying the company or spreadsheets filled with yearly revenue that will put you to sleep.
What we have is an incubation period. There is just a brief introduction to the values we believe in and we start working. This is the phase where you take up a bit of a project and handle it to the best of your ability. It's like the time when you have training wheels on your bicycle. You learn new stuff everyday, there are people to hold you when you fall, and soon enough you are driving projects like a pro.
The Wall of Points
Every Knowizard has a sheet with their name and four categories. There's performance, ownership, personal development and fun. Whenever you do something great, you get a +1 in the relevant column and a -1 for when you mess up stuff. Now what's great is that you can give and take points from anyone, regardless of your age or experience. It is funny that our resident poet, Akhil, has more points than our in-house Dumbledore, Suma.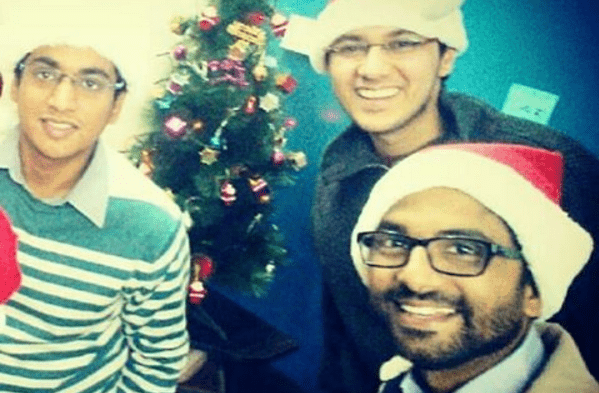 It's a lot of fun giving away points and tallying them up from time to time. You want to give every task all you got, and score some points. The fact that there are more +1s and not so many -1s, prove that we celebrate our victories and learn from each other's mistakes.
Niswey Syncs
Every Monday and Thursday, we have a brief 10 minute session where we take stock of everything we are doing for Niswey. This is my favorite part because we also brainstorm on new ideas that we can implement. We have had such fun ideas coming out of these sessions; ideas that are a joy to execute. The sync also helps all of us get on the same page and work towards a common goal.
#StandUp time!#LifeAtNiswey #agile pic.twitter.com/1Liv5GXM6a

— Niswey (@Niswey) July 15, 2015

At the start of the year, we also have a longer session where there is a bit more soul searching. We take some time out to decide what we wish to learn and achieve over the year. Believe me, it's a great way to start the year.
Goal Sessions
You know those resolutions that you make at the start of every year and then forget all about them? That cannot happen at Niswey. Start of the year, we have a session where we make this whole spreadsheet with the personal and professional goals of every Knowizard.
These can be very simple one like 'read 20 books' to BHAGS (Big Hairy Audacious Goals) like 'have 10 paid customers for my SEO tool, even though its still not through with beta testing'.
Your goals could be anything, and the Knowizards will make sure you pursue it with all your heart.
There are sessions every two months, to take stock of how much we have achieved. This is when the team comes together to applaud you when you have achieved your goals. There is also motivation and help, when you are stuck at a hurdle. What I love about these sessions is that they help you grow in more ways than one.
Hackathons
This is what brings out the competitive spirit in us. We take a problem, divide into two groups, try to find a solution. You learn to look at problems from different angles, discover perspectives that didn't know existed. You have these eureka moments as you race against time to crack the case.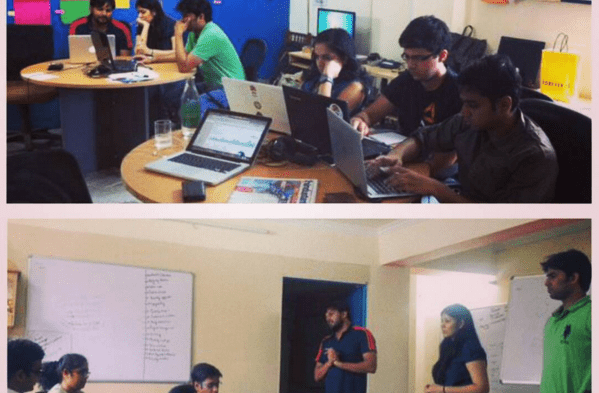 It is also a great way to learn new stuff. You might be good at writing content, but an analytics hackathon will help you find out how readers respond to different kinds of content, what works and what doesn't. Similarly, a design hackathon will open your mind to new ways of conceiving content.
Development Sessions
This is one place where your people are bothered with not just your professional performance but also your personal growth. Knowizards are encouraged to share their experiences and learnings with each other.
Rarely do you find a group of people so invested in helping you succeed. Awesome visualisation session @Niswey. #LifeatNiswey is the best.

— nilanjanadey (@nilanjana1220) January 9, 2016

We have had sessions on overcoming fear and learning to love yourself. Suma led us through an amazing session on visualizing success. It was completely overwhelming and just filled you with so much positive energy.
Niswey Nibbles
We have a thing for alliterations. So we have these social media bytes titled Monday Maxims, Wordy Wednesdays and Niswey Nibbles. Out of these, I really like the Niswey Nibbles as it gives us a chance to showcase our learnings. Anything new we learn, can be moulded into a nibble, and it goes out there as a quote.
Words of wisdom for the weekend and the week ahead. #GoalSetting #NisweyNibbles via @sumaep pic.twitter.com/PEWUf4TYgw

— Niswey (@Niswey) December 5, 2015

Oh, and did I tell you; there's a +1 for every three nibbles you come up with!
Flat Organisation
In the light of everything else I have said, this must be pretty self explanatory. Flat means no hierarchy and no managers breathing down your neck. You are expected to own your projects and work in a way that's best for them. And I don't see why it should be any other way? It's just being responsible, a trait that any functioning adult should possess. That said, it doesn't mean there is no one to teach you. There are leaders who will show you the way.
Help is always available at Niswey, to those who ask for it.
Agile Team
Knowizards work in agile teams. This means we take ownership of differents aspects of our projects and break down tasks into two week sprints. End of every two week, we take stock to figure out if things are on track. This helps to figure out pain points and hurdles before it's too late to change course. This also helps ensure that the whole team is in sync about the end goals of the project. I have learnt this gives a lot of flexibility and saves a lot of time and effort.
Office Parties
We love what we do. But there are times when feel like abandoning our laptops and letting our hair down. Food is a big part of who we are and I have lost count of the number of feasts I have had in just the first few months.
Merry #Christmas Everyone! ?? #Santa pic.twitter.com/hmcftOD5Yq

— Niswey (@Niswey) December 24, 2015

There are obviously the birthdays, but mostly we just randomly decide to jazz up the evening. Trust me, there are days when we don't feel like going back home!
So that's it, the culture code at Niswey. I believe these are what make us a cohesive team and that reflects in the kind of work we do. Discover if you would have a great cultural fit with us. You can also check out a photoblog of our trip to Lansdowne. And once again, our cheerleader sums up the power of our culture with this great tweet.
For individuals, character is destiny. For organizations, culture is destiny. #WorkCulture #LifeatNiswey

— Rajat Taneja (@7Rajat7) January 12, 2016