Clutch rates us as the number one agency in India, but we think we are not. Neither are we the best product company. Nor the best work culture company in India. And while we are the first HubSpot Elite partner in Asia, it doesn't mean that we are the best of all. Because we believe there is always scope for improvement. So our constant endeavor is to become better, every single day. Today, we are better than yesterday.
As for you, you can build great products or run creative marketing campaigns at a lot of other companies too. So then why should you join Niswey?
To be the best version of yourselves.
As a Nisweyian, we strive to build a people-first culture. We strive to have one of the best work culture among companies in India. We focus on:
Your overall growth

The keyword here is "overall", as we will invest time with you on not just your professional skills and goals, but also your personal goals and learnings.

The purpose, of your work and more importantly, your life
Your well-being

You will have a support system that will talk to you about not just your work or physical health, but also your mental health.
And we continuously work towards enabling you with these.
How can Niswey Enable Your Growth?
Learning is a big part of our DNA. Everyone at Niswey is not only committed to their own learning, but also that of their teams. And this learning is not limited to one's core skills (SEO, Content, PHP, CRO etc). We focus on helping you grow as well-rounded professionals. This means you are expected to learn about your customers, your industry, communication skills, problem-solving, working in a team, focus, planning, creativity, empathy, and many more life skills.
The idea is to become a T-Shaped person.
So you may be an expert in one marketing skill but should have a good understanding of other related marketing and tech skillsets. For example, if you are a performance marketer skilled in running ads, you should also have the basic knowledge and execution skills for SEO, basic programming of HTML & CSS, content marketing, social media, as well as marketing automation platforms.
Our focus on this aspect of learning, beyond your core skills, is so fierce that people who are not willing to learn outside their core skills find themselves out of place very soon. Having said that, this does not mean that only T-Shaped people join us. If you are one, great! If you are not but have the intent to be one, we will leave no stone unturned to help you succeed. And helping you achieve this is where we find the most Joy.
Our Purpose of Work
This focus on learning is what keeps us in business, enables us to deliver some cutting-edge work, gets us accolades, and most importantly, makes us feel like showing up for work every day. We've gone through two recessions, evolved from a content solutions company to a digital marketing services company to a Marketing Technology company, and now are one of the few digital agencies on the globe, that have both, Services and Products.
As a company, while we are small in size we are not a startup. We are small by design and by choice and consider ourselves a small giant. Small Giants share six common qualities: purpose, leadership, culture, finance, relationships, and community. We are driven by our Purpose, which is to build an Awesome, Authentic and Purposeful Workplace. As a result of it we, as a company, focus on:
Sustainable growth, even if it is slow

Growth is of utmost importance. But often we will ask the questions, "At what cost? Will it sustain?"

Win-win-win situations, rather than just a win-win

A win-win-win situation is when I win, you win and the world wins too. As compared to a win-win, where I win, you win but a third person/entity may lose. In short, in a win-win-win situation, nobody loses.

Ensuring all of us are learning not just technical skills, but also life skills

We do trainings on visualisation techniques, handling relationships, managing finances, achieving your life goals and much more

Building a great place to work where one looks forward to coming each day.


We Focus on Your Well-Being
It is this continuous focus on creating an Awesome, Authentic, Purposeful workplace that drives us to work every day.
We work towards creating a space for you to not just follow your professional, but also your personal goals. For us, at Niswey, work is a part of life, and we treat it as such. So as long as you are responsible for your work, it doesn't matter to us where you work from, and/or if you have to take timeouts for your passion, family and other personal matters.
At Niswey, we place great emphasis on your physical, mental, and emotional well-being. We work towards creating a support system that will talk to you about not just your work or physical health, but also your mental health.
Some of the perks of working at Niswey include:
Hybrid workplace culture
We have always believed in flexible work. Even pre-Covid, we had 2 of our full-time team members working remotely. And while we love working together in person, we understand that having the liberty to work anytime, anywhere is a big contributor to productivity.


Access to free-of-cost counselling services
Niswey has partnered with an online counselling service provider to prioritize the mental well-being of its team. We also have a support system for you starting from a buddy, to your PM and the rest of the team who is there to help you grow.


Health insurance
During the onset of Covid, we took the decision to provide health insurance to our team. We have received positive feedback on how it enables them to get teleconsultations, discounted medicines, and free access to wellness sessions.
We believe that people come first and Niswey exists for the team, not the other way round.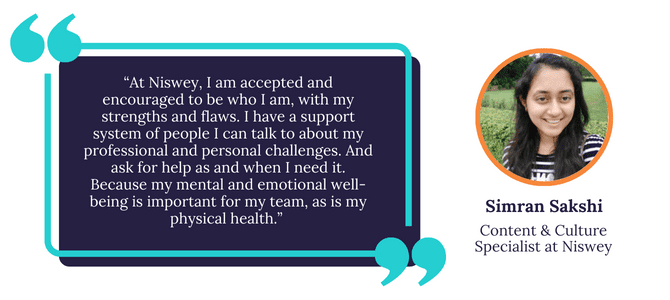 Is Niswey the Right Fit for You?
So yes, we are a team focused on growth - the growth of our people, our company, and our clients. And while enabling this, we also strive to have the best work culture for our team. Is that what you are looking for as well?
People join Niswey to
While being authentically you, not someone else the society wants you to be!
If you find joy in work, if you like helping others and don't mind receiving help, and love laughter, you might be the right fit!
Niswey could be the right fit for you:
If you're not afraid to fail
If you believe in excellence
If you can't live without learning
If you think problem-solving is what makes you tick
If you truly believe in creating wonderful experiences
If you wanted to feel joy from within while creating those experiences
If you want more from life than just a high-paying job
If you want to be the authentic version of yourself
Think you would like to work with us? Check out our current openings!
There are a lot of beautiful statements that Nisweyians have made, here's one we will leave you with.
Come for the work,
Stay for the people!