80% of Indian marketers expect to raise their marketing technology (martech) spends over the next few years. But a lack of expertise to operate the technology may hinder their growth. - The India Martech Report 2020
This points to a significant talent shortage in the increasing number of martech roles across organizations, including marketing technology companies like Niswey.
But... What is MarTech?
Martech?
It's just tech, right?
No. It's technology creating magic for the revenues of any organization. That's tech, on steroids.
So it's marketing, right?
No. It's marketing, sales and revenue operations. Powered by the brilliance and empathy of tech.
The martech industry has given rise to a new breed of marketers and salespeople, as well as a new a breed of software engineers and developers.
If you have worked on WordPress, you have been at the edge of martech. If you have worked on WordPress to drive traffic and leads, you are getting closer. If you have used automations in WordPress to drive leads, you are in the marketing technology landscape!
If you have worked on a CRM that feeds into leads and nurturing, you are in martech. If you have built an app for a CRM, you are in martech. If you have worked on HubSpot, you are so in martech!
Do you get the gist?
To be a martecher, you need to be someone who can utilize technology solutions to market smarter. The idea is to be able to:
learn any new, emerging skill that might have relevance to achieving your objectives
independently research and learn how to use a variety of tools and systems, instead of depending on others
improve your specialty in more than one field, to be a hybrid marketer
But this function is not limited to marketing, it can be extended even to a developer, or a content creator. Here are three examples of how different marketing and related roles can extend to become 'martecher' roles.

Niswey in the MarTech Space
At Niswey, we work, or shall we say, play, in the HubSpot ecosystem. It's an ecosystem that will be worth USD 12.5bn by 2024. The HubSpot platform, the services, the apps being developed, the integrations that need to be built, the training needed - the opportunity of the fastest growing CRM platform on the planet is mind-boggling.
This is why Niswey decided to become a full-fledged marketing technology company back in 2015, and not limit ourselves to delivering marketing services.
Today we have 4 SaaS products in the HubSpot ecosystem, and we are building two more in 2021.
We have built

several HubSpot

integrations

.
We also champion the HubSpot CMS as the CMS of choice for great marketing teams.
We deliver HubSpot management and martech services to B2B IT clients.
We also enable marketing agencies around the world to deliver their services better.
We do all this with a small team right now. Our team is full of martech masterminds, and others who aspire to become one. We are even building courses for the team to grow based on their interest in the martech domain.
But we need more such people to join us. So if you are looking to start or develop your career in the martech industry, Niswey may be the right place for you!
We are continuously on the lookout for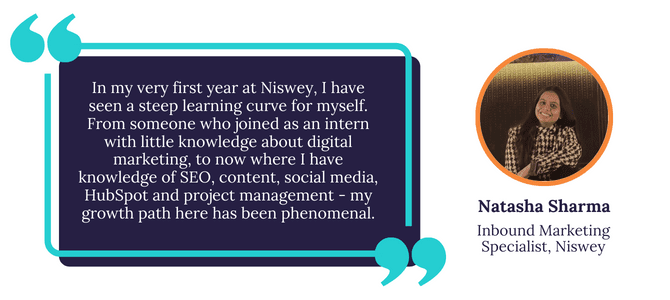 But People Join Niswey for its Culture!
Aspiring for a job in the martech industry is not the only reason to join Niswey. People join Niswey to:
And all this while being authentically you! Not someone else the society wants you to be.
If you find joy in your work, if you like helping others and don't mind receiving help, and love laughter, you might be the right fit at Niswey! Check out our current openings, and send us your CVs.