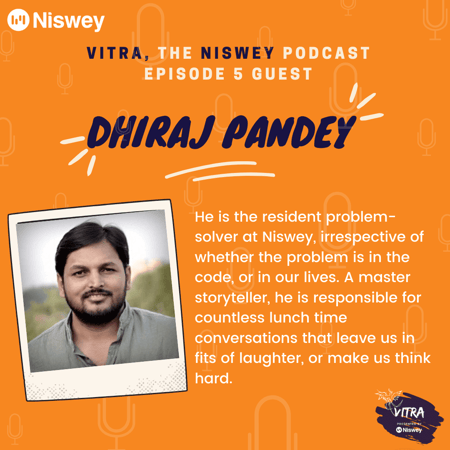 Ever faced a challenge or an obstacle in life that seemed too big to overcome? Find it difficult to adopt the right mindset when battling the difficult moments of life? Don't know how exactly to get through challenges and beyond?
That's exactly what this episode of the Niswey podcast is all about. Challenges can be of varying types, but there are certain tools and attitudes that are essential to help you get through them. From asking for help to recognising what you can and cannot do, from providing and receiving support to showing fortitude in the face of adversity, there are steps all of us can take to rise above challenges.
To discuss all this and more, I, Nilanjana, the host of Vitra, invite Dhiraj Pandey, CTO Niswey, and we get talking about the personal, professional, small, and big challenges that we have faced in life, and what actions and mental states have helped us survive them. We also discuss the current pandemic situation and what helps us stay motivated, positive, and productive during such unpredictable times.
We conclude this episode by sharing the one idea that we both believe is vital to overcoming challenges.
So if you are interested in knowing the 'mantra' to defeating obstacles, put on your headphones and give this episode a listen!
And for further episodes of Vitra, pick from the complete list of episodes released!

Podcast Hosting Platform: Anchor
Background Music: Positive Motivation by https://www.purple-planet.com