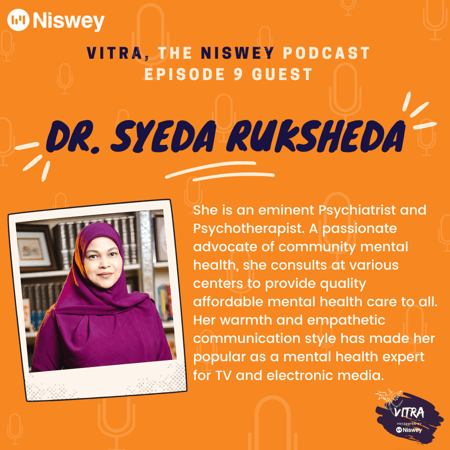 One in four people globally, and one in seven Indians experience mental health disorders. When you really think about these figures, it doesn't take long to realise that all of us either suffer from some mental health problem, or know somebody who does.
But the even sadder part about this reality is that despite the prevalence of mental health issues in the society, there's very little effort being put towards 'Understanding mental health'.
Which is why I sat down with Dr. Syeda Ruksheda, a Psychiatrist and Psychotherapist, to talk about what exactly mental health is, how it affects our day-to-day functioning, how we can recognise mental health issues in ourselves and our loved ones, and what exactly it entails to be a mental health ally.
From actionable insights into becoming a mental health first aid, incorporating regular mental health check ups in workspaces, to knowing what to say, and more importantly what not to say, Dr. Syeda tells us all. We also discuss her advocacy of mental health literacy and efforts towards normalising such conversations to ensure that everyone who needs help is able to access the right help at the right time.
About Guest:
Dr Syeda Ruksheda is an eminent Psychiatrist and Psychotherapist, and a celebrated speaker on Mental Health, with two TEDx talks to her credit.
She serves as Co-Chair of the women's mental health specialty section of Indian Psychiatric Society. She has a thriving private practice in Lokhandwala, Mumbai, spanning over 20 years, specialising in adolescents, young adults, women and families.
A passionate advocate of community mental health, Dr Ruksheda also consults at various centers, in order to bridge the gap and provide quality affordable mental health care to all. Her warmth and empathetic communication style has made her popular as a mental health expert for TV and electronic media.
Interested to hear our thoughts on mental health and well-being? Go on and give this episode a listen and find key takeaways to transform your journey with mental health.
For further episodes of Vitra, pick from the complete list of episodes released!

Podcast Hosting Platform: Anchor
Background Music: Positive Motivation by https://www.purple-planet.com