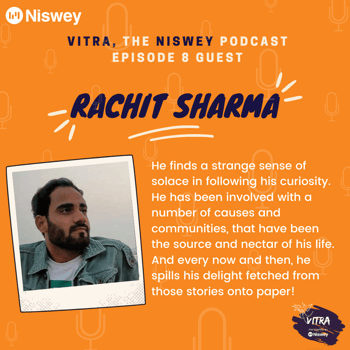 As the varying systems of inequality and unsustainable practices come into sharp focus all around us, have you felt the pressing need for large scale change?
Did you ever wonder how you can contribute to make this world more inclusive, accepting, and equal?
Ever wanted to step out of your comfort zone and become your true self?
'Young and Driving Change' is about that and more! At a time when the world is witnessing a demand for change from the younger generation, it is crucial for everyone to know what driving change actually looks like.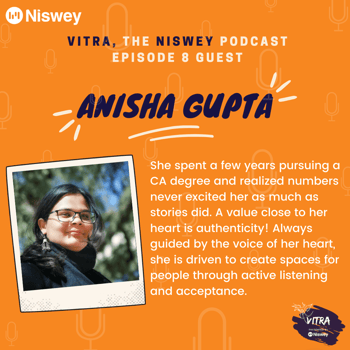 To discover the true meaning of social transformation and how to go about making it happen, I, Nilanjana Dey, host of Vitra, sit down for a detailed conversation with Anisha Gupta and Rachit Sharma, members of Youth Alliance.
We talk about why we grow up with disconnected for a range of external realities besides our own, how we can eradicate the disconnections and view the impact of our actions in a holistic manner, and why shifting the economic gaze is essential.
They shed light on their own personal journeys and why they feel listening and curiosity are important traits to have in order to be effective at bringing social transformation. From how not to develop a 'savior complex' to how individuals and large systems can invest in collaboration and cooperation to create ecosystems of change, they cover the A to Z of what it means to be a young person driving change in today's world.
About Guests:
Rachit Sharma finds a strange sense of solace in following his curiosity. After graduating from the University of Delhi he went on to pursue a fellowship in the northeast of India, in the state of Mizoram. Later, he lived and worked with the tribal journalists and activists in different parts of Chhattisgarh and Odisha. Rachit has been involved with a number of causes and communities, that have been the source and nectar of life.
He, every now and then, spills his delight fetched from those stories onto paper. "Storytelling of any kind feeds the divine discontent of curiosity from which it naturally originates," says he. He believes in the idea of constantly jumping off cliffs and developing wings on the way down. He joined Youth Alliance later in 2017 to create leadership programs that value inner-transformation and are human-centric in nature.
Currently, he anchors Gramya Manthan, a 10-day rural-immersion program that takes 30 passionate young individuals on a journey of self-realization and system's awareness through practices like empathy, inner-reflection, and service.
Anisha Gupta spent a few years pursuing a CA degree and realized numbers never excited her as much as stories did. A value close to her heart is authenticity, always felt guided by the voice of her heart, she is driven by creating spaces of listening for people through her work.
Her tryst with Youth Alliance began in 2015 and has continued in various roles since then. Currently, she looks after the Alumni Movement and Communications at Youth Alliance. Her time at Youth Alliance has deepened her trust on seeing people without labels or putting them in boxes. She also spends her time volunteering for causes like gender and sustainable living with friends from the same ecosystem.
If you have ever felt inclined towards becoming a part of the change and truly creating a world of opportunities and abundances, then give this episode a listen!
Time Stamps:
1:35 – Distinction among today's youth
6:05 – Reasons for disconnection from the external reality
13:05 – Rachit and Anisha's journeys and how they reconnected with the different realities of the world
23:20 – How to not fall into the trap of 'savior complex'
30:55 – What is common among individuals who are choosing to actively drive change in society
33:10 – Need for a larger ecosystem of change makers
38:05 – Reality of working in the social development sector
41:15 – What it takes to be a genuine change maker
For further episodes of Vitra, pick from the complete list of episodes released!

Podcast Hosting Platform: Anchor
Background Music: Positive Motivation by https://www.purple-planet.com